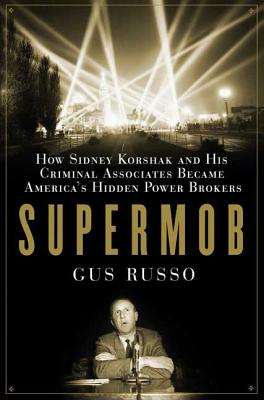 Supermob (Hardcover)
How Sidney Korshak and His Criminal Associates Became America's Hidden Power Brokers
Bloomsbury USA, 9781582343891, 592pp.
Publication Date: September 5, 2006
Other Editions of This Title:
Paperback (9/4/2007)
* Individual store prices may vary.
Description
Investigative reporter Gus Russo returns with his most explosive book yet, the remarkable story of the "Supermob"—a cadre of men who, over the course of decades, secretly influenced nearly every aspect of American society. Presenting startling, never-before-seen revelations about such famous members as Jules Stein, Joe Glaser, Ronald Reagan, Lew Wasserman, David Bazelon, and John Jacob Factor—as well as infamous, scrupulously low-profile members—Russo pulls the lid off of a half-century of criminal infiltration into American business, politics, and society. At the heart of it all is Sidney "The Fixer" Korshak, who from the 1940's until his death in the 1990s, was not only the most powerful lawyer in the world, according to the FBI, but the enigmatic player behind countless 20th century power mergers, political deals, and organized crime chicaneries. As the underworld's primary link to the corporate upperworld, Korshak's backroom dominance and talent for anonymity will likely never be equaled. And as Supermob proves, neither will his story…
About the Author
Gus Russo is the author of The Outfit: The Role of Chicago's Underworld in the Shaping of Modern America and Live By the Sword: The Secret War Against Castro and the Death of JFK. He is an investigative reporter who has worked for various major television networks, including PBS, where he was a lead reporter for the award-winning Frontline series.
Praise For Supermob: How Sidney Korshak and His Criminal Associates Became America's Hidden Power Brokers…
"Russo knows when a story matters, is relentless in pursuing it, and he delivers." —Anthony Summers, author, The Arrogance of Power: The Secret World of Richard Nixon
"Truth lives in the shadows of history, and Gus Russo takes us into those shadows with his fascinating and frightening book SUPERMOB." —James Grady, investigative reporter for Jack Anderson and novelist (Six Days of the Condor)
"Gus Russo, through some remarkable investigative journalism, has uncovered a dark side American history...a riveting book. Highly recommended." —Vincent Bugliosi, former Los Angeles County lead prosecutor, and author of Helter Skelter
"...exhaustive and compelling addition to the canon of seminal books on Organized Crime in America." —Philip Manuel, former Chief Investigator, US Senate, Subcommittee on Investigations and Member of the President`s Commission on Organized Crime
"Supermob confirms what we in law enforcement have long known, but were prevented from pursuing: the longstanding relationship between the mob and 'legitimate' politicians and corporate leaders. This is a must-read for the average citizen who wants to know how organized crime has really impacted their lives. Gus Russo has written perhaps the the most long-overdue book on crime in American society." —Robert Fuesel, former Special Agent IRS Organized Crime Division, and former Executive Director of the Chicago Crime Commission
"Nearly all of us who have written about the underworld's penetration of legitimate institutions have given considerable thought to authoring a book about Sidney Korshak. However, it took the courageous Gus Russo, with his ground-breaking research and his fabulous rock 'n roll writing style, to accomplish that landmark feat. Simply speaking, Russo's Supermob is a grand-slam home run." —Dan E. Moldea, author of Dark Victory: Ronald Reagan, MCA and the Mob
"Supermob is super, and required reading for any student of the fine art of influence peddling." —Dennis McDougal, author of The Last Mogul: Lew Wasserman, MCA, and the Hidden History of Hollywood
"very original and very important." —Burton Hersh, Fulbright Scholar, and author of The Old Boys, and The Mellon Family
"No political history of our era will be complete without referencing Supermob." —Laurence Leamer, author of The Kennedy Men and Fantastic: The Life of Arnold Schwarzenegger
"Russo's chilling portrait of Supermob lawyer Sidney Korshak is his finest work in a brilliant career." —Richard J. Whalen, former Senior Editor of the Wall Street Journal and Fortune, author of The Founding Father: The Story of Joseph P. Kennedy
"There are plenty of revelations in this absorbing book." —Kirkus reviews
"Veteran investigative author and organized crime expert Russo's magnum opus is a compelling look at one of the last century's major power players. A worthy addition to the genre." —Publishers Weekly
or
Not Currently Available for Direct Purchase