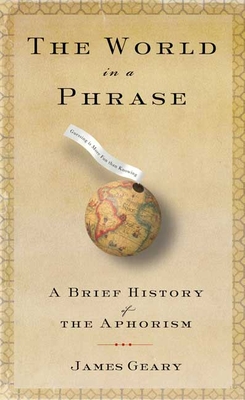 The World in a Phrase
A History of Aphorisms
Hardcover

* Individual store prices may vary.
Other Editions of This Title:
Paperback (10/9/2006)
Description
For lovers of words and seekers of wisdom, a lively history of aphorisms—the shortest and oldest written art form—and the intriguing people who have penned them, from the Buddha to Emily Dickinson.
Starting with the ancient Chinese and ending with contemporary Europeans and Americans, The World in a Phrase tells the story of the aphorism through spirited and amusing biographies of some of its greatest practitioners: Americans like Ambrose Bierce, Emily Dickinson, and Mark Twain and Dorothy Parker; great French aphorists like Montaigne, La Rochefoucauld, and Chamfort; philosophers like Schopenhauer, Nietzsche, and Wittgenstein; as well as prophets and sages like the Buddha, Lao Tzu, and Jesus. Though it's an ancient art form, the aphorism is as spritely and as apposite as ever. Challenging and subversive, aphorisms deliver the short, sharp shocks of old forgotten truths. They are literature's hand luggage: they're light and compact, you can take them anywhere, and they contain everything you need to get through a rough day at the office or a dark night of the soul. But more than just a literary history, The World in a Phrase is a personal memoir of how aphorisms changed Geary's life—and how, if not for an aphorism by W.H. Auden, he might never have met his wife. In our modern age of drive-through culture, pre-digested soundbites, and manufactured sentiment, The World in a Phrase explores how aphorisms still retain the power to instigate and inspire, enlighten and enrage, entertain and edify.
Bloomsbury USA, 9781582344300, 192pp.
Publication Date: November 2, 2005
About the Author
James Geary is deputy editor of Time magazine Europe and the author of the popular science book The Body Electric: An Anatomy of the New Bionic Senses. He lives in London with his wife and three children.
or
Not Currently Available for Direct Purchase