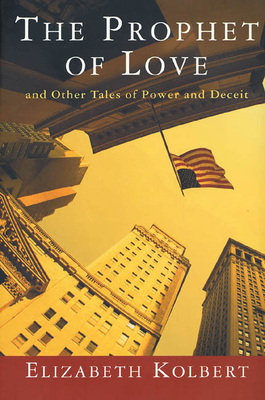 The Prophet of Love (Hardcover)
And Other Tales of Power and Deceit
Bloomsbury USA, 9781582344638, 304pp.
Publication Date: May 1, 2004
* Individual store prices may vary.
Description
"New Yorker" writer Elizabeth Kolbert dissects the body politic in these incisive-and often hilarious-portraits of the people who make New York City run.
As a reporter for "The New York Times" and then the "The New Yorker," Elizabeth Kolbert has had unparalleled access to the inner workings of the country's most complex and fascinating city. In the acclaimed profiles assembled here, Kolbert talks to politicians and policemen, bureaucrats and radicals, celebrities and demagogues. She follows some on their heady ascent to greatness and others as they fall from grace, all the while questioning how power is attained, and then, just as often, squandered.
Kolbert writes about such classic New York characters as Boss Tweed, Michael Bloomberg, Hillary Clinton, and Rudolph Giuliani. She reveals the machinations of city power in a provocative piece about the Amadou Diallo shooting and takes an unforgettably disgusting look at the work of city restaurant inspectors. And she investigates the influence of several private citizens, including Weather Underground member Kathy Boudin, the always controversial Al Sharpton, and Regis Philbin at the height of his fame.
Written during a defining period in the city's history-one that encompasses the Bloomberg mayoral campaign, the Clinton-Giuliani senatorial race, and September 11th-"The Prophet of Love" is a witty and eye-opening debut from one of our most fiercely intelligent writers.
About the Author
Elizabeth Kolbert was a reporter for the New York Times for fourteen years before leaving to become a staff writer covering politics for the New Yorker. She and her husband, John Kleiner, have three sons. They recently moved from New York to Williamstown, MA.
or
Not Currently Available for Direct Purchase