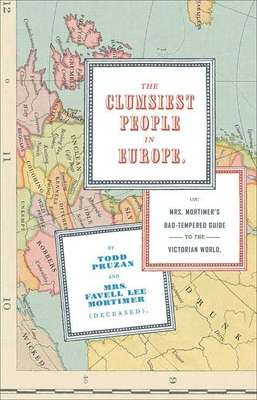 The Clumsiest People in Europe
Or, Mrs. Mortimer's Bad-Tempered Guide to the Victorian World
Hardcover

* Individual store prices may vary.
Other Editions of This Title:
Paperback (6/13/2006)
Description
A caustic, cranky, and inadvertently hilarious look at foreign countries and their customs by a Victorian woman who rarely left the house.
No matter who your ancestors were, and where they had the misfortune of living, Victorian children's book writer Mrs. Favell Lee Mortimer had something nasty to say about them. Their faults, according to Mrs. Mortimer, might have amounted to just about anything. The Irish are very kind and good-natured when pleased, but if affronted, are filled with rage. In Italy, the people are ignorant and wicked. In Sweden, Nothing useful is well done...The carpenters and the blacksmiths are very clumsy in their work. Remarkably, all of these assertions come from a woman who only twice set foot outside of her native England. But lack of personal experience never kept Mrs. Mortimer from dispensing her horrifying wisdom about the evils of just about every nation on earth. Whether describing Europe (It is dreadful to think what a number of murders are committed in Italy), Asia (The religion of Taou teaches men to act like madmen), Africa (The worst quality in any character is hypocrisy, and this is to be found in the Egyptian), or America (New Orleans is a dangerous place to live in, both for the body and the soul), Mrs. Mortimer's views are consistently appalling. One hundred fifty years later, three of her forgotten classics have been compiled into one volume, The Clumsiest People in Europe, reviving the comically misinformed and startling prejudices of this unique Victorian eccentric.
Praise For The Clumsiest People in Europe: Or, Mrs. Mortimer's Bad-Tempered Guide to the Victorian World…
"Gothic, amusing, beautifully written (by both authors), and in its own mad way it's extremely informative."

-Jonathan Ames, author of Wake Up, Sir!


"Intelligent, engaging…an amusing diversion."



"Strangely entertaining and surprisingly educational."



"A hoot, even if you do feel guilty for laughing."



"Weirdly appealing…At once, fascinating, hilarious and furious but always maddeningly entertaining."
Bloomsbury USA, 9781582345048, 208pp.
Publication Date: May 12, 2005
About the Author
Todd Pruzan is an editor at the bimonthly design journal Print and has been an editor and writer at several other magazines. He was born in Washington, D.C., and lives in Brooklyn, New York.
or
Not Currently Available for Direct Purchase