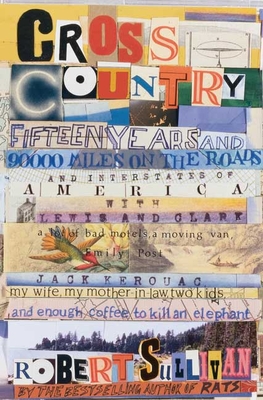 Cross Country (Hardcover)
Fifteen Years and 90,000 Miles on the Roads and Interstates of America with Lewis and Clark
Bloomsbury USA, 9781582345277, 256pp.
Publication Date: June 27, 2006
Other Editions of This Title:
Paperback (5/29/2007)
* Individual store prices may vary.
Description
From the bestselling author of "Rats," a personal and national history of one of America's favorite pastimes: driving across the country.
The cross-country trip is the trip that often whizzes past us on our way to quaint back roads and scenic parks; it's an America of long, looping highways, strip malls, fast-food depots, and road rage, but also one that is wide-open, awe-inspiring, and heartwarmingly lonely. Here, Sullivan, who has driven cross-country more than two dozen times, recounts his family's annual summer migration from Oregon to New York. His story of moving his family back and forth from the East Coast to the West Coast (and various other migrations), is replete with all the minor disasters, humor, and wonderful coincidences that characterize life on the road, not to mention life.
As he drives, Sullivan ponders his nation-crossing predecessors, such as legendary duo Lewis and Clark, as well the more improbable heroes of America's unending urge to cross itself: Carl Fisher, an Indianapolis bicycle maker who founded the Indy 500, dropped cars off of buildings and imagined the first cross-country road; Emily Post, who, before her life as an etiquette writer, was one of the first cross-country chroniclers; and the race car drivers who, appalled by the invention of seatbelts and speed limits, ran an underground cross-country car race in the 1970s known as the Cannonball Run. Sullivan meets Beat poets who are devotees of Jack Kerouac, cross-country icon, and plays golf on an abandoned coal mine. And, in his trademark celebration of the mundane, Sullivan investigates everything from the history of the gas pump to the origins of fast food and rest stops. "Cross Country" tells the tales that come from fifteen years of driving across the country (and all around it) with two kids and everything that two kids and two parents take when driving in a car from one coast to another, over and over, driving to see the way the road made America and America made the road.
About the Author
Robert Sullivan is the author of The Meadowlands, A Whale Hunt, How Not to Get Rich, and the national bestseller Rats. He is a contributing editor to Vogue and his writing has appeared in the New Yorker, the New York Times, and Dwell. He lives in Brooklyn, New York, with his wife and their two children.
Praise For Cross Country: Fifteen Years and 90,000 Miles on the Roads and Interstates of America with Lewis and Clark…
"Rollicking, ironic chronicle of a family car trip from Oregon to New York, interlaced with stories about previous trips, Lewis and Clark, Jack Kerouac, varieties of coffee lids, and...well, see the subtitle. Sullivan, who seems to specialize in quirky, uncategorize-able subjects, takes us on a journey that's sentimental but also literate, literary, amusing, informative, wicked, self-deprecating and deeply entertaining...a dazzling account of America's most archetypal odyssey, with much social history slyly and wryly inserted." -- Kirkus Reviews (starred review)
"Whether you are planning your escape by interstate or merely looking for some poolside reading, Sullivan's excursions through history, National Parks, potholes, and "Cheese Country" offer plenty of opportunity for learning and fun. His trapped-with-the-family jaunts are authentic and frenetic-just like every good road trip should be-and the teasing details he offers about such things as the origins of the Indy 500 and the coffee cup lid do exactly what a good travel book should do: inspire you to explore."--Library Journal

"Sullivan puts a magnifying glass to the culture born from westward expansion, ruminating on the banal beauty of what is now mostly taken for granted outside our windshields. Like all good road books, Cross Country generates the excitement that the idea of transcontinental travel holds: the hope to find something new that we don't realize exists while standing still."--Playboy.com

"This is a road-trip ode to all the families who have traveled by car across America. The author's many side trips make for fascinating and funny reading."--Sacramento Bee

"'Cross Country' is a mad rush of places, impressions and history cut into bite-size pieces perfect for digesting as a passenger along for the ride."--Santa Cruz Sentinel

"If Jack Kerouac went on the road these days, he'd be sipping a 24-ounce soda on a 10-lane superhighway...like his bestselling 'Rats,' which used the rodents to paint an alternative history of New York, Mr. Sullivan's new book takes another somewhat prosaic obsession -- in this case, highway travel -- and uses it as a historical road map."--Wall Street Journal

"In our age of authorial specialization Sullivan is the rare nonfiction writer who maintains a catholic curiosity…he is brilliant at capturing the moods and moments of an American family road trip…Cross Country is delightful as history, but it's the tender portrait of a family driving home together, enjoying their time just the four of them, that resonates on closing the book. America may or may not "be" the road, but for the Sullivans and so many other families, their time there comes to define them." --New York Times Book Review

"Sullivan takes us on a propulsive ride. He combines charming personal recollections with compelling musings on the history of American roads, motels, the Cannonball Run, the coffee-cup lid, and...you get the idea. By book's end, you'll feel pleasantly tripped out...wide-eyed at all the sights you've seen along the way." A- --Entertainment Weekly

"Sullivan's rangy, amusing account of his family's trek from Oregon to New York, gives us Lewis and Clark (and their modern-day impersonators), interstate visionary Carl Fisher, Cannonball Run racer Brock Yates, and those pleasingly mundane highlights (impromptu golf) and headaches (speed traps) of life on the American road." -Vogue

"'This is the America that is calculatedly heartwarming, represented by people who are purported to symbolize America -- people who are Platonic ideas of Americans: a lobsterman from Maine, a logger from Oregon, a rancher from Texas,' writes Robert Sullivan, in the introduction to his new, white-stripe-hypnotized travelogue on (and ruminative ode to) the interstates, 'Cross Country.' (His last book was about rats. Another book was about New Jersey 's forsaken Meadowlands. Oh, we like him.)"
--Washington Post

"Sullivan writes with precision, humor and empathy, his own voice carrying us along." -- Portland Oregonian

"[A] sprawling, zigzagging, history-drenched memoir...like Jack Kerouac before him, Sullivan clearly believes that discovery in the American road sense of the word -- meaning the quasi-patriotic reaching of enlightenment about one's nation via kinetic passage over its breadth -- remains a real possibility, minimarts, Wal-Marts, and all. No one is better equipped to do this than Sullivan. His previous books have revealed him to be something of an urban Thoreau... So turning the American roadside -- with its blisters of fast-food restaurants, its fungal growth of billboards -- into a thing of beauty is a piece of cake for Sullivan." -- Boston Globe

"If you ride along with Sullivan - the curious and funny and often very wise writer of this entertaining, eclectic and eccentric memoir - the days and miles will melt away like bright and brilliant dreams. And not a single time will you ask, 'Are we there yet?'" -- Cleveland Plain Dealer
"Mr. Sullivan is an inspiration...[his] digressions never fail to entertain or edify...he channels Walt Whitman's sense of wonder."--Washington Times


"Sullivan is at his best when he unwraps forgotten chunks of Americana."--San Francisco Chronicle

"This endearing, 15-year, 90,000-mile-spanning road-trip tale is as packed as its subtitle, which is way too long to reprint here but includes bad motels, a moving van, Jack Kerouac, children and tons of coffee."--OK! Magazine

"There are moments of brilliance along the way."--New York Times

"This dazzling new road book deserves a soundtrack, so cue up the Steppenwolf: Robert Sullivan's 'Cross Country' is just as irresistible as 'Born To Be Wild,' that immortal road anthem...he is a master of jazz narrative, so many twists and turns that readers can only be enthralled and bedazzled."--Seattle Post Intelligencer

"Sullivan is sensitive, witty and well-read, which is why it's so much fun to have him along for the ride."--USA Today



"This is a road-trip ode to all the families who have traveled by car across America…fascinating and funny reading."



"[Sullivan] is brilliant at capturing the moods and moments of an American family road trip…Cross Country is delightful as history."



"A propulsive ride. [Sullivan] combines charming personal recollections with compelling musings…[you'll feel] wide-eyed at all the sights you've seen."



"Sullivan's rangy, amusing account of his family's trek from Oregon to New York, gives us…life on the American road."
or
Not Currently Available for Direct Purchase