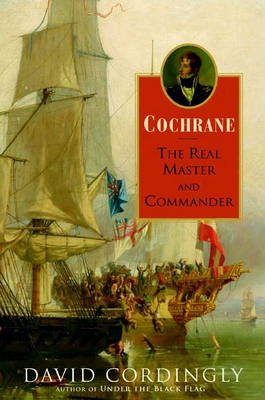 Cochrane: The Real Master and Commander (Hardcover)
The Real Master and Commander
Bloomsbury USA, 9781582345345, 448pp.
Publication Date: September 18, 2007
* Individual store prices may vary.
or
Not Currently Available for Direct Purchase
Description
From the bestselling author of "Under the Black Flag, "comes the definitive biography of the swashbuckling 19th century maritime hero upon whom Jack Aubrey and Horatio Hornblower are based.
Nicknamed "le loup des mers" ("the sea wolf") by Napoleon, Thomas Cochrane was one of the most daring and successful naval heroes of all time. In this fascinating account of Cochrane's life, David Cordingly, author of the bestselling "Under the Black Flag "and" The Billy Ruffian," unearths startling new details about the real-life "Master and Commander," from his daring exploits against the French navy to his role in the liberation of Chile, Peru, and Brazil, and the shock exchange scandal that forced him out of England and almost ended his naval career. Drawing on previously unpublished papers, his own travels, wide reading, and the kind of original research that distinguished "The Billy Ruffian," Cordingly tells the rip-roaring story of the archetypal Romantic hero who conquered the seas and, in the process, defined his era.
About the Author
David Cordingly was Keeper of Pictures and Head of Exhibitions at the National Maritime Museum for twelve years, where he organized such exhibitions as "Captain James Cook, Navigator," "The Mutiny on the Bounty," and "Pirates: Fact and Fiction." His other books include Life Among the Pirates, Heroines and Harlots, and the highly praised The Billy Ruffian. He lives by the sea in Brighton, England.
Praise For Cochrane: The Real Master and Commander…
"Most intriguing and satisfying...Within his nearly 85 years, Cochrane packed enough drama and history to shame both Horatio Nelson and Sir Francis Drake...O'Brian fans will find great satisfaction in smoking out similarities and differences between Cochrane and Aubrey."—Ken Ringle, Washington Post
"[Cordingly] used previously unpublished papers, extensive original research and his own travels to tell Cochrane's story which is as good as any fiction."—BoatU.S. Magazine
"Cordingly, an established historian of Nelson's navy, tells Cochrane's story with flair and sympathy"
—Publisher's Weekly
"Avast, Horatio Hornblower! Shove off, Jack Aubrey! Give way to a real life knee-breeched naval hero. Maritime historian Cordingly...presents the life of Thomas Cochrane, tenth Earl of Dundonald (1775–1860), a lanky Scot who was the very model, we are told, for the stalwart characters of C.S. Forster and Patrick O'Brian...Readers can practically smell the salt air as Cordingly recreates the age of sail, of press gangs, of round shot, grape, canister and loud nine pounders, of wellarmed ships of the line, jolly boats, bum boats and fire ships. To document the career of his hero, the author draws on memoirs, logbooks, archives, correspondence and ephemera. He chronicles in copious detail Cochrane's considerable bravery on deck and personal failings ashore. Landlubbers may find this a lengthy voyage, but devotees of yarns about brave British tars will be delighted to be aboard."
—Kirkus Reviews
Advertisement