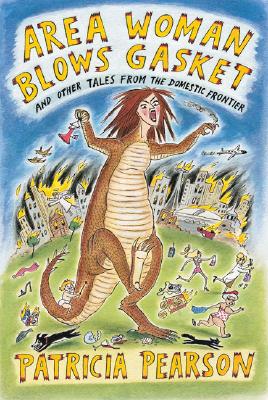 Area Woman Blows Gasket: And Other Tales from the Domestic Frontier (Hardcover)
And Other Tales from the Domestic Frontier
Bloomsbury USA, 9781582345369, 224pp.
Publication Date: March 24, 2005
* Individual store prices may vary.
or
Not Currently Available for Direct Purchase
Description
Area Women Unite! In this sharp and sophisticated collection of essays, columnist Patricia Pearson takes us on a hilarious tour of our twenty-first-century obsessions and distractions.

Patricia Pearson is a working woman, wife, and mother on the verge. Whether it's being humiliated by the "Beauty Bullies" at the Lancome counter or failing to live up to the "Serene Mother" ideal, Pearson has had enough of negotiating our present-day myths and fads. In fact, she's formed a few opinions on the matter and can't wait to share them with you.

In Area Woman Blows Gasket, Pearson plumbs every facet of modern life, marriage, and motherhood, from choosing the right vegan-bran-hemp diet for your family to confronting your husband's irrational fear of mayonnaise to finding a way to return to work and not turn your child into a contract killer. Adult education classes, therapy, $100 haircuts, the latest news on what causes cancer, Christmas shopping-all come into sharp focus with the help of Pearson's comic eye. Her wry brand of wisdom is a refreshing and long-awaited release from our confusing and often contradictory world.
About the Author
Patricia Pearson is a columnist for McLean's and a former columnist for Canada's National Post. She is also a frequent contributor to USA Today and the author of the novel Playing House. Her work has appeared in the New York Times, the New York Observer, the Guardian, and Cosmopolitan, and she has won three Canadian National Magazine Awards. She lives in Toronto with her husband and two children.
Praise For Area Woman Blows Gasket: And Other Tales from the Domestic Frontier…
"Amusing."



"[Pearson's] attempts to deal with her anxieties, phobias, neuroses and addictions touch a mysterious universal chord that is most endearing and hilarious and inspiring."

-Nancy Lemann, author of Malaise


"You'll laugh along with her on every page of this smart, irreverent, and best of all funny, funny book."

-Bruce McCall


"Not only did I giggle to myself throughout this book…I came out on the other end knowing one thing for certain: I want to be more like her."

-Muffy Mead-Ferro, author of Confessions of a Slacker Mom


"Area Woman has … exposed the emperor of contemporary culture for being the nudist we all suspect he is. Read it and sob with laughter."

-Karen Karbo, author of The Stuff of Life


"Screamingly funny…No aspect of modern American life escapes Pearson's inquiring mind."



"Pearson's writing is side-splittingly funny… amid the debris of the near-disasters perpetrated by her children, there's a tender mother hanging on to her identity at all costs."



"Pearson…shows just how complicated (and laugh-generating) the pursuit of the simple life can be."
Advertisement