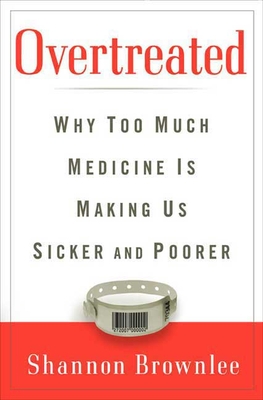 Overtreated
Why Too Much Medicine Is Making Us Sicker and Poorer
Hardcover

* Individual store prices may vary.
Other Editions of This Title:
Paperback (9/9/2008)
Description
Though touted as perhaps the best in the world, the American medical system is filled with hypocrisies. Our health care is staggeringly expensive, yet one in six Americans has no health insurance. We have some of the most skilled physicians in the world, yet one hundred thousand patients die each year from medical errors. In this gripping, eye-opening book, award-winning journalist Shannon Brownlee takes readers inside the hospital to dismantle some of our most venerated myths about American medicine. Using vivid examples of real patients and physicians, Overtreated debunks the idea that most of medicine is based in sound science, and shows how our health care system delivers huge amounts of unnecessary care that is not only expensive and wasteful but can actually imperil the health of patients.
The interests of politicians and the medical-industrial complex continually trump those of patients, seducing the wealthy with unnecessary procedures and leaving the poor with haphazard access to treatment. Backward economic incentives allow patients with chronic conditions to receive ineffective care, and roll after roll of red tape undermines even the best-intentioned doctors. Tens of thousands of patients die each year from overtreatment. American medicine is in desperate need of fixing. Nevertheless,
Overtreated
ultimately conveys a message of hope by reframing the debate over health care reform. Americans worry about rationing--that any effort to rein in the high cost of health care will result in limited access to life-saving treatments. Covering the uninsured seems like an insurmountable problem because it will drive up costs even more.
Overtreated
offers a way to control costs and cover the uninsured, while simultaneously improving the quality of American medicine. Shannon Brownlee's humane, intelligent, and penetrating analysis empowers readers to avoid the perils of overtreatment, as well as pointing the way to better health care for everyone.
Praise For Overtreated: Why Too Much Medicine Is Making Us Sicker and Poorer…
PRAISE FOR OVERTREATED: "My choice for the economics book of the year...it's the best description I have yet read of a huge economic problem that we know how to solve--but so often misunderstood."—New York Times article 'No. 1 Book, and It Offers Solutions' "This book is written for a sophisticated general audience. I hope it is widely read, providing patients with the needed resolve to stop demanding that their physicians prescribe the latest procedure, poultice or potion that marketing and medical journalism foists on them….Brownlee's presentation is brilliant journalism."—Journal of the American Medical Association "The cardiologist who found blocked arteries in nearly every patient…the brilliant breast cancer cure that too often killed patients…Brownlee uses anecdotes of medical misdeeds, mistakes, and misunderstandings to illustrate a surprising truth at the heart of American healthcare: More isn't necessarily better. Shoring up her conclusions with groundbreaking findings from a group of researchers at Dartmouth, Brownlee also points the way to workable solutions."—O Magazine "Excellent new book"—Slate.com "A bombshell of a book: must reading for consumers, their political representatives and all those White House contenders."—Kirkus, Starred review

"[Brownlee] presents a stunning but reasoned picture of the out-of-control, inefficient and often tragically ineffective U.S. health care system…This rousing call for change, accessible for general readers, is recommended."— Library Journal
"Exhaustive takedown of the U.S. health-care system…Overtreated eclipses Michael Moore's reporting and eschews his polemics. By piling on facts, Brownlee shows why Americans spend so much on health care yet are in measurably poorer shape than the residents of just about every other developed nation."—Conde Nast Portfolio "alarming and intriguing…Brownlee gives each of her theme-based chapters an emotional core by rolling out a story."—Bloomberg.com "'Overtreated' should be read by anyone interested in health care economics."—Tyler Cowen, Marginalrevolution.com "Overtreated is a marvelous new book by Shannon Brownlee."—Thehealthcareblog.com "Finally, someone willing to expose the dirty little secret of US health care. If you have insurance you will certainly get too much health care, and in this situation more is definitely not better. Shannon Brownlee's book, Overtreated, will open your eyes to the problems and point the way to the answers."—Susan Love, M.D., author of Dr. Susan Love's Breast Book, President and Medical Director, Dr. Susan Love Research Foundation "In the blizzard of books on our healthcare system, Shannon Brownlee's is unique in its provocative argument that individuals and the nation suffer from misguided and costly treatments. Patients, physicians, and policy makers would do well to consider her evidence as an important prescription for reform."—Jerome Groopman, M.D., Harvard Medical School and author of How Doctors Think "This book could save your life. In gripping detail, Shannon Brownlee explains how well-insured Americans get much more high-tech medical care -- CT scans, angiograms, and the like -- than they need, enriching the hospitals and doctors who provide it, but driving up the overall costs of health care and often endangering patients' lives. Brownlee clearly shows in this important book that overtreatment, like undertreatment, is very bad medicine."—Marcia Angell, senior lecturer in social medicine at Harvard Medical School and former editor-in-chief of the New England Journal of Medicine "Overtreated will scare you. And that's a good thing. In this vivid and arresting tour of medicine in America, Shannon Brownlee shows why the care that is supposed to make us healthier frequently makes us sicker instead. At a time when health care reform is atop the political agenda again, this book should be required reading -- not only for every lawmaker and medical professional, but for every voter and patient, too."—Jonathan Cohn, author of Sick: The Untold Story of America's Health Care Crisis---and the People Who Pay the Price "With her razor-sharp analyses, Shannon Brownlee disentangles the messy paradoxes of today's health care mess and turns every assumption on its head. She will forever change the way you view health care while restoring your hope for its future. This book is an important read for anyone interested in health care reform, which, in this day and age of overtreatment, should be all of us."—Pauline Chen, author of Final Exam: A Surgeon's Reflections on Mortality "Overtreated is a necessary, if bitter tonic. As the election season starts to take shape, we desperately need an unbiased examination of the mess we're in and some substantiative ideas for fixing it. Overtreated delivers on both counts...Brownlee uncovers some truly amazing facts...Brownlee has given us a thoughtful push in the right direction."--Cleveland Plain Dealer
Bloomsbury USA, 9781582345802, 352pp.
Publication Date: September 18, 2007
About the Author
Shannon Brownlee is an award-winning journalist whose stories and essays about medicine, health care, and biotechnology have appeared in such publications as the Atlantic Monthly, the New York Times Magazine, the New Republic, and Time. Born and raised in Honolulu, she holds a master's degree in biology from the University of California. She is a senior fellow at the New America Foundation in Washington, D.C. Brownlee lives in Annapolis, Maryland, with her husband and son.
or
Not Currently Available for Direct Purchase