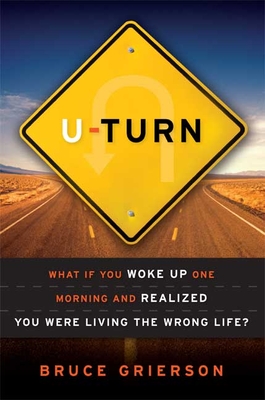 U-Turn
What If You Woke Up One Morning and Realized You Were Living the Wrong Life?
Hardcover

* Individual store prices may vary.
Other Editions of This Title:
Paperback (3/18/2008)
Description
Every day, in almost every field, someone perceives themselves to be on the wrong side of a psychic divide. The second brain in their gut tells them their life must change. Bruce Grierson draws on over 300 hundred stories of u-turners, including famous cases like Gandhi and Gauguin as well as a host of other gripping tales of people who have risked everything to answer life's wake-up call: people who change political parties and careers, people give up their jobs as doctors to become poets, men who become women, professional athletes who quit to spend more time with their families, mothers who quit their families to pursue careers, people who suddenly become revolutionaries for a cause they didn't care about the day before.
Grierson examines the u-turn from all angles--philosophical, scientific, literary and psychological--beginning with premise that the wake-up call is the secular equivalent of the religious epiphany, the moment when a person is born again. When does the wake-up call happen? Often in mid-life, but not always. Is it a good thing? Yes and no. Who does it happen to? Potentially any of us, under the right circumstance. Is America ready for a mass u-turn? Maybe. In chapters that address everything from the neuroscience behind epiphanies (the eureka moment) to the possibility of forcing a u-turn, Grierson brilliantly describes and elucidates this powerful, mysterious phenomenon, and in doing so illuminates all or our continual struggles with life choices and identity.
Praise For U-Turn: What If You Woke Up One Morning and Realized You Were Living the Wrong Life?…
"Once a staple of the American Dream, change and rebirth are increasingly derided as dangerous or silly, a manifestation of a life "crisis." In his fascinating, balanced, thoroughly researched and readable look at the "U-Turn," Bruce Grierson gives this phenomenon its due. His view of the "wake-up call" as the secular equivalent of the religious epiphany is brilliant. U-turns are not always good or beneficial, but almost always significant, frequently life-altering. This book is essential for anyone contemplating meaningful change." –Jon Katz, author of Running to the Mountain and A Good Dog
"U-Turn is a very smart, grounded, wise, well-written and important book. Using compelling human-scale stories, Bruce Grierson explores the dynamics involved in making major life-changes. The result is not only a fascinating study of other people's lives. Here is a map that offers guidance to anyone tempted to take a detour en route to who-knows-where."—Parker J. Palmer, author of A Hidden Wholeness, Let Your Life Speak, and The Courage to Teach
"Grierson has pulled together a remarkable collection of tales of dramatic personal transformation, in which people appear to make sudden u-turns in their lives. These mysterious epiphanies challenge our fundamental beliefs about human nature and the stability of human personality. In this engaging book, Grierson examines how and why people undergo profound changes in thought and action, providing surprising insights into the human condition along the way. A very enjoyable read."—Todd F. Heatherton, Champion International Professor, Dartmouth College
"Rarely can a writer capture the complex and often times inchoate process of change, whether on a large sweeping scale, or at the level on which a single individual lives his or her life. In this book, however, Bruce Grierson has accomplished just such a feat, illuminating for the reader the basic who what why and where's of the sudden shifts few of us have the courage to make. U-Turn is a map of transformation; it tells the extraordinary tales of individuals who have made extraordinary, Kierkegardian leaps of faith, leaps accompanied with Kierkegardian anxiety, which makes the leapers only braver, and that much more inspiring. You can read this book for the tales it tells, for the inspiration it imparts, or for the knowledge it so generously gives."—Lauren Slater, author of Opening Skinner's Box and Welcome to My Country
Bloomsbury USA, 9781582345840, 352pp.
Publication Date: April 3, 2007
About the Author
Bruce Grierson has been nominated for eight Canadian National Magazine awards, and is the co-author of Culture Jam. He lives in Vancouver with his wife and daughter.
or
Not Currently Available for Direct Purchase