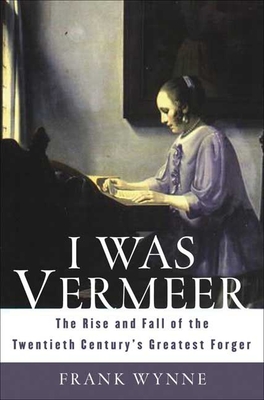 I Was Vermeer: The Rise and Fall of the Twentieth Century's Greatest Forger (Hardcover)
The Rise and Fall of the Twentieth Century's Greatest Forger
Bloomsbury USA, 9781582345932, 288pp.
Publication Date: October 3, 2006
* Individual store prices may vary.
or
Not Currently Available for Direct Purchase
Description
Frank Wynne's remarkable book tells the story of Han van Meegeren, a paranoid, drug-addicted, second-rate painter whose Vermeer forgeries made him a secret superstar of the art world and along the way, it reveals the collusion and ego that, even today, allow art forgery to thrive. During van Meegeren's heyday as a forger of Vermeers, he earned 50 million dollars, the acclamation of the world's press, and the satisfaction of swindling the Nazis. His canvases were so nearly authentic that they would almost certainly be prized among the catalogue of Vermeers if he had not confessed. And, no doubt, he never would have confessed at all if he hadn't been trapped in a catch-22: he had thrived so noticably during the war that when it ended, he was quickly arrested as a Nazi collaborator. His only defense was to admit that he himself had painted the remarkable "Vermeers" that had passed through his hands a confession the public refused to believe, until, in a huge media event, the courts staged the public painting of what would be van Meegeren's last "Vermeer." "I Was Vermeer "is an utterly gripping real-life mystery, capturing both the life of the consummate art forger, phenomenally skilled and yet necessarily unrecognized, and the equally fascinating work of the experts who identify forgeries and track down their perpetrators. Wry, amoral, irreverent, and plotted like a thriller, it is the first major book in forty years on this astonishing episode in history.
About the Author
Frank Wynne is a writer and award-winning literary translator. Born in Ireland he has lived and worked in Dublin, Paris, Amsterdam, London, Buenos Aires and currently lives in San Jose, Costa Rica. He has translated more than a dozen major novels, among them the works of Michel Houellebecq, Frederic Beigbeder, Pierre Merot and the Ivorian novelist Ahmadou Kourouma. A journalist and broadcaster, he has written for the Sunday Times, the Independent, the Irish Times, Melody Maker, and Time Out.
Praise For I Was Vermeer: The Rise and Fall of the Twentieth Century's Greatest Forger…
"Wynne blends reportorial skill with a love of irony to tell van Meegeren's life story…Crime thriller or forgery primer, this intriguing read also proves another epigram: Beauty is in the eye of the beholder."--Bookpage

"A spectacular story of vengeance and fraud told with verve and style by British journalist Wynne…The incredible story of how Dutch painter Han van Meegeren avenged himself on supercilious art critics by becoming an expert forger of Vermeer and fooling the Nazis conveys a valuable lesson in how we see, notes Wynne in this methodical, suspenseful tale…The forger's trajectory from wealthy charlatan to national hero makes for delicious reading. Wynne employs all the devices of an expert roman policier."--Kirkus Reviews
Advertisement