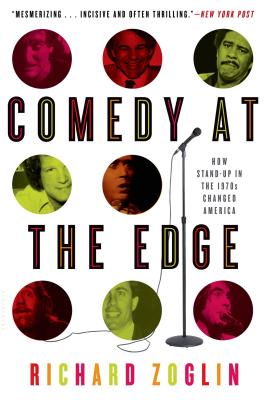 Comedy at the Edge
How Stand-up in the 1970s Changed America
Hardcover

* Individual store prices may vary.
Other Editions of This Title:
Paperback (2/10/2009)
Description
What Peter Biskind did for filmmaking, Time magazine critic Richard Zoglin does for comedy in this meticulously researched and hilariously readable account of stand-up comedy in the 1970s.

In the rock-and-roll 1970s, a new breed of comic, inspired by the fearless Lenny Bruce, made telling jokes an art form. Innovative comedians like George Carlin, Richard Pryor, and Robert Klein, and, later, Steve Martin, Albert Brooks, Robin Williams, and Andy Kaufman, tore through the country and became as big as rock stars in an era when Saturday Night Live was the apotheosis of cool and the Improv, Catch a Rising Star, and the Comedy Store were the hottest clubs around. In Comedy at the Edge, Richard Zoglin gives a backstage view of the time, when a group of brilliant, iconoclastic comedians ruled the world—and quite possibly changed it, too. Based on extensive interviews with club owners, agents, producers—and with unprecedented and unlimited access to the players themselves—Comedy at the Edge is a no-holdsbarred, behind-the-scenes look at one of the most influential and tumultuous decades in American popular culture.
Praise For Comedy at the Edge: How Stand-up in the 1970s Changed America…
"An engaging and informative ...Zoglin has conducted extensive interviews with comics, club owners, managers, producers, and hangers-on. And his subjects rarely bore. They are, for the most part, carousing, drug addicted, and emotionally unstable (there's no business like show business!), and Zoglin captures their plentiful highs and lows. Zoglin does a good job telling the story of the rise of the comedy club, from its humble beginnings in a seedy New York dive called the Improv, to its growing influence in supplying talent for TV and film and the boom that filled American towns and cities with Seinfeld wannabes." —Weekly Standard
"A knowledgeable, fascinating account of the whole of modern stand-up...a must-read. a definitive history of the entire comedy revolution. The well-researched book has a cracking pace, readable tone and an intelligent understanding of this fascinating subject." —Chortle.com
"Zoglin's understanding of how comics think gives his portrait of the era absolute authority. He nails [it]." —Portland Oregonian
"Zoglin is a clear and informative writer. Comedy at the Edge is genial and good fun." —New York Times
"Evocative…first-rate" —Wall Street Journal
"Zoglin provide(s) an entertaining account of the era's emerging comedy scene, interviewing most of the principals and supporting players to connect the dots from Lenny Bruce to Jerry Seinfeld. The result is an intimate glimpse through the keyhole of a rebel subculture birthed on the smoke-filled stages of New York's Improv and Catch a Rising Star that found its way into the heart of mainstream America -- on television and film and in suburban stand-up factories." —Los Angeles Times
"Sharp, perceptive history...Especially fascinating are tales about the inner politics of comedy clubs and the struggles of female comedians." —Christian Science Monitor
"Wise, concise, effortlessly erudite." —Boston Globe
"Mesmerizing. Incisive and often thrilling. Zoglin conducted meticulous and thorough research [and] manages to uncover new insights. A fun read." —New York Post (Larry Getlen)
"Somebody finally gets it. Zoglin, at long last, [has] written a book about a subject that has been hiding in plain sight for almost 40 years. Comedy at the Edge is a detailed examination of how our current political, religious and cultural sensibility emerged from small comedy clubs. There have certainly been other books about it but Zoglin has a handle on it that no one else has had. Even deeply immersed students of comedy in the past 40 years are probably going to be learning decidedly new and often unfunny things on every other page of "Comedy at the Edge." An irresistible read and a key book for understanding our era." —Buffalo News (Jeff Simon)
"Lovingly detailed...Good times, as the NPR anchor played by Molly Shannon in the infamous "SNL" "Schweddy Balls" skit, would say." —New York Daily News (Sherryl Connelly)
"A very desirable addition for the pop-culture shelves" —Booklist
"Mirthful material worthy of applause…Zoglin on standup is standout." —Publishers Weekly
"The stand-ups are the warriors of show business, and Richard Zoglin has brilliantly captured their funny and often desperate world." —Charles Grodin
"Required reading for anybody who has laughed or cried at the zingers tossed out by Richard Pryor or any of the other brilliant performers--from Lenny Bruce to Jerry Seinfeld--who populate Richard Zoglin's riveting, politically savvy, and fluently written account of the Golden Age of stand-up comedy." —Peter Biskind, author of Easy Riders, Raging Bulls
"It's no small matter to revise an entire nation's sense of humor, but that's the unannounced revolution the stand-up comics of the 1970s accomplished. Richard Zoglin has told their story, from Lenny Bruce to Jerry Seinfeld, in this engagingly written, thoroughly reported book. Thoughtful, witty and totally original in concept and execution, Comedy at the Edge is delicious reading--both as social history and as an edgy exploration of what makes us laugh in post-modern America." —Richard Schickel, author of Elia Kazan: A Biography
Bloomsbury USA, 9781582346243, 256pp.
Publication Date: January 22, 2008
About the Author
Richard Zoglin is a senior editor and writer at Time, who has also served as its television and theater critic. In his twenty years covering entertainment for the magazine, he has written cover stories on Bill Cosby, David Letterman, Diane Sawyer, and Arsenio Hall, among others; and done major pieces on Jerry Seinfeld and Johnny Carson. He lives in New York City.
or
Not Currently Available for Direct Purchase