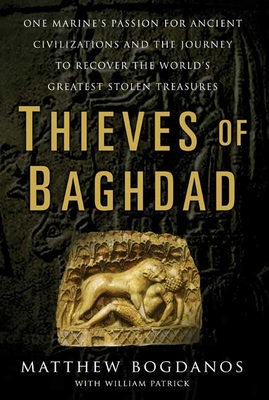 Thieves of Baghdad (Hardcover)
Bloomsbury USA, 9781582346458, 320pp.
Publication Date: October 26, 2005
* Individual store prices may vary.
or
Not Currently Available for Direct Purchase
Description
He's a spit-and-polish Marine, a competitive boxer, a classics scholar, and an assistant DA in Manhattan. New York tabloids call him "pit bull" for his relentless prosecution of high-profile defendants like Sean "Puff Daddy" Combs and the "baby-faced butchers" of Central Park. When Baghdad fell, Colonel Matthew Bogdanos was in southern Iraq, tracking down terrorist networks through their financing and weapons smuggling until he heard about the looting of the museum. Immediately setting out across the desert with an elite group chosen from his multiagency task force, he risked his career and his life in pursuit of Iraq's most priceless treasures.
"Thieves of Baghdad" takes you from his family's flight to safety at Ground Zero on 9/11, to his mission to hunt down al-Qaeda terrorists in Afghanistan, and into the war-torn streets of Baghdad on the trail of antiquities. Colorful characters and double-dealing are the norm as Bogdanos tries to sort out what really happened during the chaos of war. We see his team going on raids and negotiating recoveries, blowing open safes and mingling in the marketplaces, and tracking down leads from Zurich and Amman to Lyons, London, and New York. In an investigation that led to the recovery of more than 5,000 priceless objects, complex threads intertwine, and the suspense mounts as the team works to locate the most sensational treasure of all, the treasure of Nimrud, a collection of gold jewelry and precious stones often called "Iraq's Crown Jewels."
A mixture of police procedural, treasure hunt, wartime thriller, and cold-eyed assessment of the connection between the antiquities trade and weapons smuggling, "Thieves of Baghdad" exposes sordid truths about the international art and antiquities market. It also explores the soul of a man who is equal parts hardened Marine, dedicated father, and passionate scholar. Most of all, it demonstrates that, in a culture as old as that of the Middle East, nothing is ever quite what it seems.
About the Author
Matthew Bogdanos has been an assistant district attorney in Manhattan since 1988. A colonel in the Marine Reserves, middleweight boxer, and native New Yorker, he holds a degree in classics from Bucknell University, a law degree and a master's degree in Classical Studies from Columbia University, and a master's degree in Strategic Studies from the Army War College. Recalled to active duty after September 11, 2001, he received a Bronze Star for counterterrorist operations in Afghanistan, and then served two tours in Iraq. Released back into the Reserves in October 2005, he returned to the DA's Office and continues the hunt for stolen antiquities.William Patrick is the author of Blood Winter, which the "Wall Street Journal "likened to "the fresh early best of Graham Greene and John le Carre.""
Advertisement