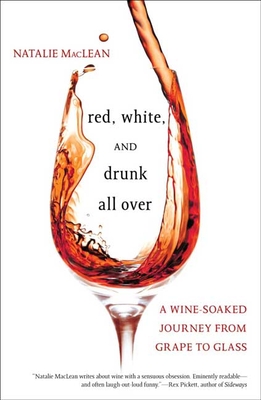 Red, White, and Drunk All Over (Hardcover)
A Wine-Soaked Journey from Grape to Glass
Bloomsbury USA, 9781582346489, 288pp.
Publication Date: September 19, 2006
* Individual store prices may vary.
Description
After three years of sipping, spitting, and slogging her way through bushy vine leaves and cellar cobwebs, award-winning writer Natalie MacLean takes readers behind the scenes of the international wine world, exploring its history, visiting its most evocative places, and meeting some of its most charismatic personalities.
In "Red, White, and Drunk All Over," Natalie travels to the ancient vineyards of Burgundy to uncover the secrets of the pinot noir, the "heartbreak grape" from which some of the most coveted and expensive wines in the world are made. She visits the labyrinthine cellars of Champagne to examine the myths and the mystique of luxury bubbly and the "grandes dames" who made it the drink of celebration the world over. She pulls on sturdy boots to help with the harvest at the vineyards of iconoclastic Californian winemaker Randall Grahm and goes undercover as sommelier for a night in a five-star restaurant with a wine list the thickness of a phone book. She looks at the influence of powerful critics, notably Robert Parker and Jancis Robinson, invites readers into her dining room for an informal wine tasting, and compares collecting notes at a bacchanalian dinner with novelist Jay McInerney.
As funny and engaging as she is knowledgeable, Natalie has an unconventional wit, curiosity, and obsession with all things related to wine that make for a tour both amusing and informative, from grape to bottle to glass.
About the Author
Natalie MacLean is an accredited sommelier and has won numerous awards, among them four James Beard Journalism Awards, including the MFK Fisher Distinguished Writing Award; five IACP Bert Greene Awards; four Association of Food Journalists Awards; and four North America Travel Journalists Association Awards; and she has been named the World's Best Drink Writer. Her work has appeared in Best Food Writing, and she has written for Bon Appetit, Food & Wine, Wine Enthusiast, the San Francisco Chronicle, the Chicago Tribune, the Minneapolis Star Tribune, and the St. Louis Post-Dispatch. Natalie publishes her free newsletter, Nat Decants, at www.nataliemaclean.com.
Praise For Red, White, and Drunk All Over: A Wine-Soaked Journey from Grape to Glass…
"Natalie MacLean deepens one's appreciation of wine as if she were beside you. Her adventures in wine tasting are as accessible as your favorite pop song."--Kermit Lynch, wine merchant and author of Adventures on the Wine Route "A galloping read, which educates, entertains, and amuses…[Natalie] is the George Plimpton of wine writers…."--Ann Noble, professor of viticulture, University of California, Davis.

"There's everything here: old stories and new, an inquiring mind and bags of enthusiasm."--Hugh Johnson, author of The World Atlas of Wine

"Teetotalers, beware! This is…bound to make a wine lover out of everyone who picks it up."--Andrew Dornenburg and Karen Page, James Beard Award-winning authors of Becoming a Chef

"Abandon your inhibitions as [Natalie MacLean] takes you through the wonderful world of wine."--Louisa Thomas Hargrave, director, Stony Brook University Center for Wine, Food and Culture

"[I]mpossible to resist. I thoroughly enjoyed this book."--Michael Ruhlman, author of The Reach of a Chef and coauthor of The French Laundry Cookbook

"Many have walked down the path of vinous storytelling before Natalie MacLean, but until Red, White, and Drunk All Over, I'm not sure I've ever seen someone so sensibly or surreptitiously provide a starch-free education in wine. In the guise of a heart- and body-warming memoir, we get to learn what she learns while she's learning it. Why, you'd almost be under the impression that she wasn't actually teaching! And beyond being a terrific writer, she's fun company." --Danny Meyer, coauthor of The Union Square Cafe Cookbook and author of Setting the Table "Unlike so many wine guides, this one is an adventure story. Natalie MacLean takes us along as she navigates the sometimes treacherous wine landscape, from vineyard to wine store to restaurant to her own kitchen, putting it all in perspective and even putting a wine snob or two in their place. We finish the journey far more confident--and with a craving for great wine." --Edward Deitch, Wine Critic, NBC and MSNBC.com "Red, White and Drunk All Over is an engaging and very accessible guide to the world of wine. Natalie MacLean takes on the dual role of drinking companion and advisor as we travel with her to individual vineyards and wineries in France and California. Along the way we meet, and then quickly develop personal feelings for, the growers, the wine-makers, the vines themselves, and the wines they produce." --Naomi Duguid, co-author of Mangoes & Curry Leaves, Home Baking, and Hot Sour Salty Sweet
or
Not Currently Available for Direct Purchase