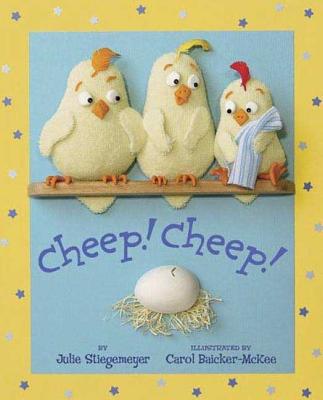 Cheep! (Hardcover)
Bloomsbury Publishing PLC, 9781582346823, 21pp.
Publication Date: March 7, 2006
Description
Three little chicks are sound asleep when they hear a mysterious cheep But who could it be? Babies and toddlers can follow along as the three chicks set out to investigate. Plush collage figures in nursery-room colors look soft enough to cuddle up to, while sturdy card-stock pages and safely rounded corners will hold up to repeated readings.
Reviews
"Take a family of adorable, three-dimensional chickens-constructed from velvety, cozily domestic terry cloth-add a text made up entirely of words with a giggle-inducing 'eep' sound, and the result is this irresistible, inventive paper-over-board book. 'Sleep' starts off the first spread, where a chicken family tries to get some shut-eye. A turn of the page shows a 'Cheep' coming from the egg below their perch. Making a joint 'Leap ' (the smallest chick uses its blankie as a parachute) the peeping protagonists land in a comic 'Heap' and eagerly welcome their newest addition. Baicker-McKee (the "FussBusters" series) gives her absorbent cast minimalist facial features and highly streamlined appendages (the two-color backdrops are equally spare). But she comes up with an amazing array of expressions and comic poses; when the reconstituted family settles down on the perch for a group slumber party, the two smallest downy siblings share a priceless conspiratorial wink and hug. Young children will undoubtedly view the chick family as toys come to life and be thoroughly enchanted. Here's hoping another diphthong inspires a follow-up from this talented team."--"Publishers Weekly," starred review
"The art is extremely simple while being exactly right. Digitally assembled from puffy terrycloth bodies, googly eyes and the odd feather or two, the chickies are cuteness in action One to keep." -"Kirkus Reviews"
"The illustrator uses terry cloth, a few well-placed feathers, and an eggshell or two to create adorable chicks sure to capture a child's heart. Like the text, the pictures are minimal but t.
About the Author
Carol Baicker-McKee is a self-taught illustrator who works with paint, fabric, and clay to create wonderful 3-dimensional artwork. She holds a Ph.D. in clinical child psychology and is the author of the award-winning FussBusters series of parenting books. She also writes the monthly Baby Games column for Nick Jr. Magazine.Julie Stiegemeyer is a poet who has written several religious-themed picture books for Concordia House. This is her first picture book for the trade market.
Advertisement