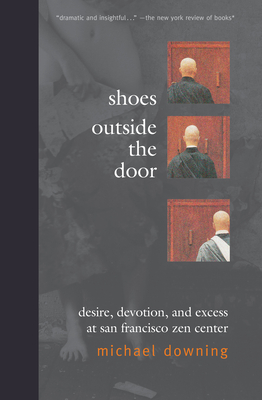 Shoes Outside the Door
Desire, Devotion, and Excess at San Francisco Zen Center
Paperback

* Individual store prices may vary.
Description
A close-up look at the scandals that rocked the San Francisco Zen Center, a leader in alternative religious practice and the counterculture in America, and their repercussions.

The remarkable forty-year history of the people who established the first Buddhist monastery outside of Asia in the history of the world has never been told. Michael Downing wondered why. "I'm living proof of why you better not speak out," explained one ordained Zen priest. "The degree to which I was scapegoated publicly was most effective in keeping everyone else quiet."

In 1959, a Soto Zen priest took leave of his family in Japan to minister to the congregation of a Buddhist temple in San Francisco. Alan Watts and others spread the word that an authentic Zen Roshi was living there, and students, poets, drifters, and seekers began to attend his lectures. Impressed by their sincerity and commitment, Suzuki Roshi began to offer instruction in zazen (meditation) and other Buddhist practices to these devoted young spiritual pioneers. The San Francisco Zen Center was born.

And then, in 1983, meltdown. A sex scandal rocked Zen Center, and it triggered tragedies and headlines about abuse of power that called into question the whole matter of alternative religious practice in America. Overnight the most prominent community of Buddhists in the West found itself at the vanguard of a cultural revolt against spiritual authority.

For Shoes Outside the Door, Michael Downing spent three years studying documents and interviewing more than eighty people who were there, at ground zero. As engaging as any mystery, as mysterious as any political campaign, as political as any family gathering, this story will haunt and challenge readers as they unravel this essential chapter of American history.
Praise For Shoes Outside the Door: Desire, Devotion, and Excess at San Francisco Zen Center…
"Downing tells the story with a novelist's attention to character and detail . . . this book deserves a wide reading." —Publishers Weekly

"Downing wisely takes a Zen approach and weaves together diverse voices to create a fascinating, multifaceted chronicle." —Booklist (starred)

"Downing (Breakfast with Scot) journeys from the utopian origins of the center as the first Buddhist monastery ever established outside of Asia, through the success of the upscale Greens restaurant and the Tassahara Bread Bakery, to the explosion of shady business dealings, sexual exploitation of female workers, cultlike activities, and seemingly hypocritical use of Zen philosophies. Downing is not judgmental, instead presenting facts in a narrative style that flows quickly through 20 years of Zen Center enterprises and tumult." —Library Journal

Counterpoint, 9781582432540, 406pp.
Publication Date: August 15, 2002
About the Author
Michael Downing's novels include the national bestseller Perfect Agreement, named one of the 10 Best Books of the year by Amazon and Newsday, and Breakfast with Scot, a comedy about two gay men who inadvertently become parents. An American Library Association honor book, Breakfast with Scot was adapted as a movie that premiered at the Toronto International Film Festival. His nonfiction includes Shoes Outside the Door: Desire, Devotion, and Excess at San Francisco Zen Center, hailed by the New York Review of Books as a "dramatic and insightful" narrative history of the first Buddhist monastery outside of Asia, and by the Los Angeles Times as "a highly readable book." His essays and reviews appear in the New York Times, Washington Post, Wall Street Journal, and other periodicals. Michael teaches creative writing at Tufts University. He and his partner have lived together in Cambridge for more than 25 years.