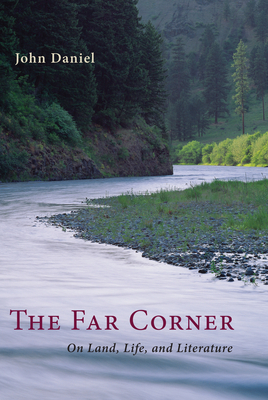 The Far Corner (Paperback)
Northwestern Views on Land, Life, and Literature
Counterpoint LLC, 9781582435848, 205pp.
Publication Date: April 13, 2010
Other Editions of This Title:
Hardcover (4/1/2009)
* Individual store prices may vary.
Description
John Daniel writes from the ground he walks on and the landscape he inhabits in the northwest corner of America, spinning narratives that seek to discover how he belongs to the land and to the wholeness of life itself. He takes his readers to beaches, old-growth forests, sagebrush steppe-lands, and deep river canyons -- wild places, and places scarred by human exploitation -- and leads us too through inner terrains where he explores mortality, creativity, and spirituality.
Both lyrical and informative, these essays are diverse in focus, various in length, and inventive in form -- one is constructed as a journal, two as linear montages. By turns playful, awed, cantankerous, and tender in tone, they deliver themselves in a style of high informality, welcoming readers to join the author as he journeys through some of the puzzlements, sadnesses, and small glories of living. This collection extends John Daniel's earlier work, The Trail Home, in the personal essay form.
Praise For The Far Corner: Northwestern Views on Land, Life, and Literature…
Praise for John Daniel

"The Far Corner makes such good company because the writing is patient with what it wants to discuss. It thinks, recognizes nuance and includes it rather than dismissing it. The result is a view (of rivers, logging, Wallace Stegner, nonfiction prose) that's layered rather than simplistic and accurate rather than glib. John Daniel's essays sound a voice that wants to tell the truth and that finds outand makes clearhow complicated and mysterious an effort this can be." Lex Runciman, Professor of English, Linfield College

As beautifully wrought as it is truthful, Rogue River Journal is a Walden for our time." Pacific Northwest Booksellers Awards Committee

John Daniel has quietly established himself over the past decade as one of the premier writers on the West Coast." The Bloomsbury Review

John Daniel loves wilderness of all kinds, and gets out into it every chance, but it is more than scenery he is after. He has a streak of mysticism, some generalized religious sense, that is stimulated by the natural world, by physical effort, as in climbing, and by participation in the sounds and smells and seasons of nature . . . his essays will win him devoted readers." Wallace Stegner

Daniel's writing is known for its clarity." The Oregonian