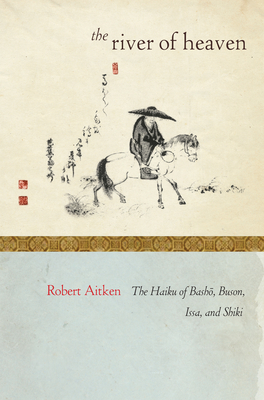 The River of Heaven
The Haiku of Basho, Buson, Issa, and Shiki
Paperback

* Individual store prices may vary.
Description
"In this, his final work, American senior Zen Roshi Robert Aitken lovingly ties together two threads, Zen practice and haiku." —Spirituality & Health

Known to many as the study of quiet stillness and introspection, Zen Buddhism distinguishes itself through brilliant flashes of insight and its terseness of expression. In River of Heaven these concepts and pillars lend themselves to an exploration of Haiku, one of the most delicate and interpretive poetic forms in the world. The haiku verse form, with its rigid structure and organic description is a superb means of studying Zen modes of thought because its seventeen syllables impose a limitation that confines the poet to vital experience. In Haiku as in Buddhism, the silences are as expressive as the words.

In this volume, American Senior Zen Roshi Robert Aitken gives new insight into Haiku by poetic masters Basho, Issa, Buson, and Shiki. In presenting themes from Haiku and from Zen literature, Aitken illuminates the relationship between the two. Readers are certain to find this an invaluable and enjoyable experience for the remarkable revelation it offers.

"I am grateful for Robert Aitken's enthusiastic sharing of poems in The River of Heaven, together with his rich personal and cultural perspectives. It is a book where the author joyfully calls each of us as readers to share in the transcendent joys of haiku." —Juxtapositions

"Aitken mines the meanings in these brief gems about nature, impermanence, travel, awareness, silence, beauty, being present, the turn of the seasons, and much more." —Spirituality & Practice
Praise For The River of Heaven: The Haiku of Basho, Buson, Issa, and Shiki…
Praise for Miniatures of a Zen Master

"In this sprightly collection of 188 short texts, [Aitken] offers brief stories, observations, memories, and commentaries. Those familiar with his book Encouraging Words will appreciate the further evidence of this Zen Master's wisdom." —Spirituality & Practice

"Like some of the finest Zen literature, they read like the contents of one's own mind and also like a mirror held up to show the mind's quotidian chatter to be somehow pure." —BuddhaDharma
Counterpoint, 9781582437101, 208pp.
Publication Date: May 10, 2011
About the Author
Robert Aitken is the author of more than a dozen books about Buddhism, including A Zen Wave, Encouraging Words, and Taking the Path of Zen. A dedicated Buddhist for most of his life, he is a former abbot and roshi of the Honolulu Diamond Sangha in Hawaii, which he co-founded with his late wife Anne Hopkins Aitken in 1959. He now lives in retirement at the Palolo Zen Center in Honolulu.