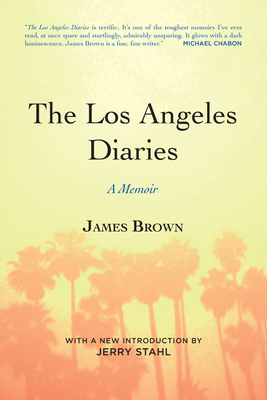 The Los Angeles Diaries
A Memoir
Paperback

* Individual store prices may vary.
Other Editions of This Title:
Digital Audiobook (4/6/2020)
Compact Disc (4/7/2020)
MP3 CD (4/7/2020)
Description
Plagued by the suicides of both his siblings, and heir to alcohol and drug abuse, divorce, and economic ruin, James Brown lived a life clouded by addiction, broken promises, and despair.



In The Los Angeles Diaries, he reveals his struggle for survival, mining his past to present the inspiring story of his redemption. Beautifully written and limned with dark humor, these twelve deeply confessional, interconnected chapters address personal failure, heartbreak, the trials of writing for Hollywood, and the life–shattering events that finally convinced Brown that he must "change or die."



In "Snapshot," Brown is five years old and recalls the night his mother "sets fire to an apartment building down the street." In "Daisy," Brown purchases a Vietnamese potbellied pig for his wife to atone for his sins, only to find the pig's bulk growing in direct proportion to the tensions in his marriage.



Harrowing and brutally honest, The Los Angeles Diaries is the chronicle of a man on a collision course with life, who ultimately finds the strength and courage to conquer his demons and believe once more.
Praise For The Los Angeles Diaries: A Memoir…
Praise for The Los Angeles Diaries

"The best addiction memoirs reflect on the running and gunning with just the right amount of thoughtful remove, which is exactly what makes James Brown's The Los Angeles Diaries so important. The title is deceptive in that there's nothing diary–like about it: No diary could be this elegantly crafted and tightly woven. Structured as a series of standalone vignettes, the book has more than enough material to justify a woe–is–me stance—an arsonist mother and suicidal siblings, to start with—but a clear–headed voice that mines the subject matter of regret while refusing to ever wallow keeps the narrator out of self–pity. Underread and underrated, Brown's vibrant imagery and nimble storytelling elevates The Los Angeles Diaries into a league all its own." —The Fix, selected as one of the Ten Best Addiction Memoirs

"The Los Angeles Diaries is one of those rare memoirs that cuts deeply, chillingly into the reader's own dreams. It is a dramatic, vivid, heartbreaking, very personal story of human responsibility and guilt, of alcoholism, of suicide, of marital struggle, of the uncertainties and ambiguities of a writer's life in modern America. The book is cleanly and beautifully written, and it's also incredibly moving." —Tim O'Brien, author of The Things They Carried and winner of the National Book Award

"The Los Angeles Diaries is terrific. It's one of the toughest memoirs I've ever read, at once spare and startlingly, admirably unsparing. It glows with a dark luminescence. James Brown is a fine, fine writer." —Michael Chabon, author of The Amazing Adventures of Kavalier & Clay, winner of the Pulitzer Prize

"This gemlike collection . . . materializes in such delicate strokes that the emerging theme becomes one of almost miraculous forgiveness, any pain and rage all but hidden between the lines." —San Francisco Chronicle (Best Books of the Year)

"Profound . . . unsparing and clear–eyed, a heartbreaking story, and yet oddly inspirational, the tale of the last man standing." —Janet Fitch

"Life–affirming . . . An extraordinarily gripping, honest, and somehow uplifting tale. It seamlessly moves from bleak to beautiful . . . A darkly bright, hugely compassionate, and oddly redemptive story of loss and failure, guilt and addiction." —The Independent

"As tragic as Brown's life has been, the memoir displays neither pathos nor self–pity but elegiac wisdom . . . How moving is Brown's The Los Angeles Diaries? While double–checking the quotes and facts, I simply gave in and reread it again, struck even more by its pain, its beauty and its craft." —Deirdre Donahue, USA Today

"It's the balance of agony and grace, of course, that makes life so ferociously interesting. Brown has perfectly captured that balance in this unpretentious, very profound book." —Carolyn See, The Washington Post

"Novelist Brown (Lucky Town; Hot Wire; etc.) mines the explosive territory of his own harsh and complicated life in this gut–wrenching memoir . . . Brown's genius compels readers to sympathize with him in every instance. Juxtaposed with the shimmery unreality of Hollywood, these essays bitterly explore real life, an existence careening between great promise and utter devastation. Brown's revelations have no smugness or self–congratulation; they reek of remorse and desire, passion and futility. Brown flays open his own tortured skin looking for what blood beats beneath and why. The result is a grimly exquisite memoir that reads like a noir novel but grips unrelentingly like the hand of a homeless drunk begging for help." —Publishers Weekly (Best Book of the Year)

"Brown's blackout days make for a darkly alluring read. This is the kind of book that becomes an underground classic for all the wrong reasons." —Booklist

"A riveting read. A supremely powerful and depressing memoir, then, one that seeks to evoke and express—rather than in any way explain—the misery that engulfed one ambitious American family." —Kirkus

"The 'Kennedy curse' looks like a garden–variety hex compared with the dysfunction passed down among Brown's alcoholic clan. When the acclaimed Lucky Town novelist was 5, his embezzling mom dragged him along to an arson; both his siblings committed suicide in middle age; Brown himself abandoned his wife, kids, and college English students for days to binge on booze and meth. If that's not bleak enough, consider this memoir's really depressing scenes . . . Hollywood script meetings. It's all riveting and self–pitiless, but two passages are priceless: a devastating imagining of the post–recovery shame that led his sister to dive into the bone–dry L.A. River, and his nightmarishly funny battle of wills with a potbellied pig that was supposed to salvage his marriage but instead helped demolish it." —Chris Willman, Entertainment Weekly

"This is a ghost story, and James Brown should be dead. That he is not is a remarkable tale of perseverance in the face of staggering loss and tragedy." —Charles Feldman, CNN

"Remarkable . . . Rises above the commonplace to the true art of comprehended pain . . . the hallmark of Brown's prose is gravitas. His truths are definitive." —DeWitt Henry, The Boston Globe

"Searing, gut–churning but ultimately luminous . . . The Los Angeles Diaries reads like the best—and darkest—fiction . . . Uncompromisingly bleak yet surprisingly beautiful, a passionate testament not only to how one can survive what should shatter and sunder irreparably, but that one can survive and in surviving, begin anew." —The Baltimore Sun

"Each chapter shows the tool marks of the well–crafted short story, carefully and even lovingly shaped and polished until it shines . . . The stories amount to a memoir of stunning intimacy and unforgettable impact." —Jonathan Kirsch, Los Angeles Times Book Review

"The book is a classic, deeply moving and expertly crafted." —Sydney Morning Herald

"Vivid, shocking and funny . . . a darkly bright, hugely compassionate and oddly redemptive story of loss and failure, guilt and addiction." —London Independent on Sunday (Best Books of the Year)

"A stark, affecting memoir about a writer seeking to comprehend and overcome his demons." —Sunday London Times
Counterpoint, 9781582437200, 224pp.
Publication Date: March 1, 2011
About the Author
James Brown is the author of the critically acclaimed memoirs The Los Angeles Diaries and This River. He is the recipient of a National Endowment for the Arts Literature Fellowship and the Nelson Algren Literary Award in short fiction. Brown's work has appeared in GQ, The New York Times Magazine, Los Angeles Times Magazine, Ploughshares, New England Review, and many other publications. He lives in Lake Arrowhead, California.