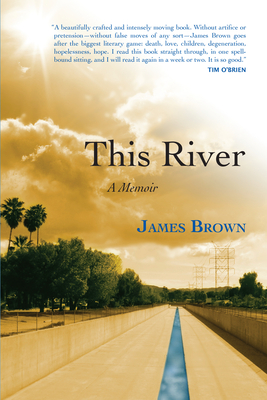 This River (Paperback)
Counterpoint LLC, 9781582437217, 178pp.
Publication Date: March 1, 2011
Other Editions of This Title:
Compact Disc (3/24/2020)
* Individual store prices may vary.
Description
Award-winning author James Brown gained a cult following after chronicling his turbulent childhood and spiraling drug addiction in The Los Angeles Diaries. This River picks up where Brown left off in his first memoir, describing his tenuous relationship with sobriety, telling of agonizing relapses, and tracking his attempts to become a better father. This is the heartbreaking and at times uplifting tale of Brown's battles, peeking into his former life as an addict and detailing his subsequent ascent to sobriety and fight for redemption.

Praise For This River…
Praise for This River

This River pulls no punchesart shouldn't and Brown doesn't. The good, the bad, the ugly are all there in a lucid, uncluttered, muscular prose studded with honesty, willpower, and courage. Brown's is a story of a man who, against overwhelming odds, not only came back from the abyss, but triumphed." Duff Brenna, author of The Book of Mamie, recipient of the AWP Award for Best Novel

"This follow-up to his first memoir, The Los Angeles Diaries, highlights Brown's literary prowess . . . This is dark, but also loving and literary." Library Journal

"Beautifully written, this is clear-eyed truth-telling by a man coming to terms with the best and worst in himself and others." Booklist

"What is fascinating to watch is not a spectacle of declinehe writes of addiction to alcohol, heroin, meth, prescription drugs and antidepressantsbut his geologic sculpting, this wearing away of a person, memories and all, down to some pure and simple core. This River continues where Brown's first memoir, The Los Angeles Diaries, left off. It's molten stuff, the story of his efforts to control his river of rage." Los Angeles Times

A beautifully crafted and intensely moving book. Without artifice or pretensionwithout false moves of any sortJames Brown goes after the biggest literary game: death, love, children, degeneration, hopelessness, hope. I read this book straight through, in one spellbound sitting, and I will read it again in a week or two. It is so good." Tim O'Brien, National Book Award winning-author of Going After Cacciato and The Things They Carried

James Brown is a truth teller and here again he does not disappoint. His writing as always is lucid and unflinching. In laying bare his own soul, he makes of his work an act against loneliness, shot through with a sad wisdom." Kem Nunn, author of the L.A. Times Book Award winner Tijuana Straits and of the National Book Award nominated Tapping the Source

When you put this book down, trust me, you will think about it for a long time." Robert Olmstead, author of the national bestseller Coal Black Horse

James Brown has shaped from the English language something rather different: an exacting, muscular prose both tender and unforgiving, rigorously concise in its refusal to dilute the darkest realities and yet capacious and nuanced in its pursuit of redemption and familial love. He is one of our most accomplished writers, and this brilliant memoir is among the finest of its kind." B.H. Fairchild, author of the National Book Critics Circle Award winning Early Occult Memory Systems of the Lower Midwest and National Book Award nominated The Art of the Lathe

This is a harrowing and beautiful memoir, shot through with excess and violence and shocking, heart-stopping compassion. James Brown renders his extraordinary life in tight, muscular prose, sparing neither himself nor the reader the hard lessons of addiction and recovery. The result is an unforgettable book, stripped of irony and pretense, that lays bare the darknessand the lightin all of us." Bret Anthony Johnston, author of Corpus Christi: Stories

James Brown's provocative, beautifully written and gut wrenching memoir illuminates a life rich in those elemental passions that govern our livesanger, fear, depression, death, and love. Sometimes tender, sometimes manic, but always wise and insightful, [this book] never falters in the muscularity of the writing, all of it filled with riveting details that kept this reader turning the pages as fast as he could read them. Here is a remarkable life, one that is both devastating and inspiring. Any ordinary man experiencing what Brown went through would doubtless have died long ago, but Brown not only survived, he triumphed and in ways no one would have predicted, least of all, perhaps, Brown himself. From a junky/alcoholic to award-winning writer and university professor, Brown has proven once again that there are no oracles when it comes to foretelling the inevitable course of any man's journey. Mesmerizing from beginning to end. Unforgettable." Duff Brenna, author of The Book of Mamie, winner of the AWP Award for Best Novel, and Too Cool, a New York Times Notable Book of the Year

Sequel to Brown's indelible The Los Angeles Diaries, this cycle of linked narratives is equally powerful and complete in itself. Brown's profoundly authentic story of Brown, survivor of sibling suicides, drinker, user, writer, teacher, father, husband, is as fully imagined as it is unsparing. In speaking from the edge of loss, Brown's eloquence recalls Robert Lowell's this eye has seen what this hand has done.'" DeWitt Henry, author of Safe Suicide