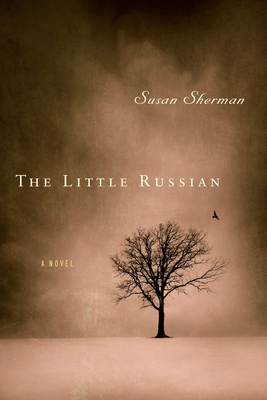 The Little Russian
Hardcover

* Individual store prices may vary.
Other Editions of This Title:
Paperback (1/15/2013)
Hardcover, Large Print (5/1/2012)
Description
The Little Russian spotlights an exciting new voice in historical fiction, an assured debut that should appeal to readers of Away by Amy Bloom or Cold Mountain by Charles Frazier. The novel tells the story of Berta Alshonsky, who revels in childhood memories of her time spent with a wealthy family in Moscow –a life filled with salons, balls and all the trappings of the upper class — very different from her current life as a grocer's daughter in the Jewish townlet of Mosny. So when a mysterious and cultured wheat merchant walks into the grocery, Berta's life is forever altered. She falls in love, unaware that he is a member of the Bund, The Jewish Worker's League, smuggling arms to the shtetls to defend them against the pogroms sweeping the Little Russian countryside.



Married and established in the wheat center of Cherkast, Berta has recaptured the life she once had in Moscow. So when a smuggling operation goes awry and her husband must flee the country, Berta makes the vain and foolish choice to stay behind with her children and her finery. As Russia plunges into war, Berta eventually loses everything and must find a new way to sustain the lives and safety of her children. Filled with heart–stopping action, richly drawn characters, and a world seeped in war and violence; The Little Russian is poised to capture readers as one of the hand–selling gems of the season.
Praise For The Little Russian…
Praise for The Little Russian

"In The Little Russian, Susan Sherman offers much more than an eloquently gripping narrative set against an explosive backdrop. She is inviting us to consider the too–often unsung heroines of history, the women whose ferocious willpower and dazzling ingenuity can be more potent than gunpowder when it comes to changing the world." —The Los Angeles Review of Books

"Sherman's extraordinary debut novel plunges her readers into the bitter cold, deprivation, and upheaval of early 20th–century wartime Russia. Berta is a fascinating mix of petty vanity, devoted parenting, and breathtaking courage, fleshed out with cinematic detail that's both irresistible and spectacularly illuminating. All fiction readers will enjoy." —Library Journal (starred)

"Entrancing, meticulously researched . . . The Little Russian is a masterful study of one woman's fight to stay afloat and alive in an era in which governance was consolidated with oppression and barbarism . . . Sherman keeps us guessing as to whether her heroine can make it over the border to be reunited with her given–up–for–lost Hershel, and we devour the last pages greedily."—Malcolm Forbes, Rain Taxi

"Powerful, harrowing and richly atmospheric, Susan Sherman's unflinching debut novel captures the enduring light of the human spirit when faced with the darkness of unimaginable loss. It follows the journey of Berta Alshonsky, a Jewish woman who falls from the ranks of European high society during the pogroms and must struggle to keep her children alive in the depths of war–torn Russia. The Little Russian provides an astonishing look at life for many Russian Jews throughout this time in history. It's a captivating read told through a voice we won't soon forget." —Ilie Ruby, author of The Language of Trees

"[An] impressive debut . . . Sherman's sweeping saga works on multiple levels, from its grim depiction of war's depredations to its harsh portrayals of anti–Semitism to its fiery love story. A mesmerizing read." —Booklist (starred)

"An impressive fiction debut with an epic tale of war's transformative effects on one Russian woman and her family." —Publishers Weekly

"Moving and smart, The Little Russian is a sweeping tale of survival, loss, love, loyalty, family, religion, racism, and war. Susan Sherman masterfully blends history into fiction, delivering a self–assured, elegant debut." —Victoria Patterson, author of This Vacant Paradise

"If Margaret Mitchell and Isaac Bashevis Singer had a baby, it would be The Little Russian. It's impossible not to be deeply impressed by this sweeping portrait of Russia during the pogroms, but it is even more impossible not to be moved by this fiery and deeply human love story. A moving and brilliantly researched debut, I just loved it." —Sheri Holman, author of The Dress Lodger
Counterpoint, 9781582437729, 384pp.
Publication Date: February 21, 2012
About the Author
Susan Sherman is the author of The Little Russian and If You Are There. She is the former Chair of the Art Department of Whittier College and the co–creator of one of the most successful television shows for children in the history of the Disney Network. Learn more at susanshermanauthor.com.
or
Not Currently Available for Direct Purchase