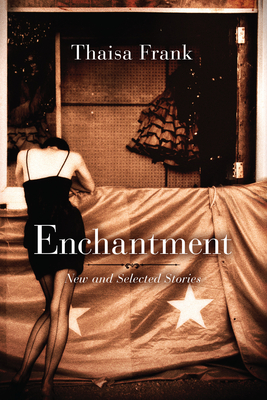 Enchantment
New and Selected Stories
Paperback

* Individual store prices may vary.
Description
The short fiction of Thaisa Frank has captivated readers for two decades, and now many of those pieces are collected in one volume, along with several new stories. In the title story, a lonely mother and housewife orders an enchanted man from a website called The Wondrous Traveler, who arrives with instructions for use and a list of frequently asked questions about enchantment. In "Thread," two circus performers who pass through the eye of a needle become undone by a complicated love triangle. In "Henna," a young writing teacher must contend with an exotic student who will not write, her hands covered in dye and her fingers "sprouting innumerable gardens." And in "The Loneliness of the Midwestern Vampire," the undead descend upon the heartland of the country and become accustomed to its friendlier way of life, attending barn raisings and feasting on cattle in an attempt to normalize their darker passions.



These are vibrant, compelling stories that examine the distance between imagination and reality, and how characters bridge that gap in their attempt to reach one another.
Praise For Enchantment: New and Selected Stories…
Praise for Enchantment

"…It is difficult to think of a better title for Thaisa Frank's captivating collection of new and selected stories than Enchantment...[it] has a marvelous, dreamlike quality – the sort of book that is not so much read as it is experienced, a spellbinding blend of flash fiction, short stories, and novellas that also move seamlessly and pleasingly from the concrete and the surreal, the historical and the fantastic…Like many great story collections, Enchantment is a book that teaches the reader how to read it as they move through its pages, and…it soon becomes apparent that Frank is writing what she knows about – that in her varied, imaginative and often metaphorical means of capturing emotional truth, she has created an honest, affecting and mesmerizing book, one that shines powerfully and unforgettably with that wonderful sense of enchantment of which Nabokov speaks." —San Francisco Chronicle

"The title of this collection hints at its contents—delectable stories with touches of the surreal as well as many plot twists and surprises. From short–short story to novella, each narrative demonstrates mastery of the genre. Frank's style is tightly controlled and lyrical, yet contains a richness of detail that seamlessly integrates fantasy elements and magic realism."—Booklist

"Thaisa Frank's Enchantment serves the reader small, jeweled worlds of wonder— contortionists and circus masters, enchanted men and vampires, angel channelers and Pre–Raphaelites. This powerful and unforgettable collection shows the mortal challenges faced by even the most extraordinary characters." —Siobhan Fallon, author of You Know When the Men Are Gone

"Enchantment explores the shadows at the edges of our lives, and the restless truths that inhabit them. Thaisa Frank's prose is pitch–perfect, as is her instinct for exploring the unspoken hungers of the human spirit. These are stories of startling beauty, boldly imagined and finely wrought." —Carolina De Robertis, author of Perla

Praise for Heidegger's Glasses

"Frank's vision of the Holocaust is original and startling, with compelling characters and a narrative that's both explosive and ponderous." —Publishers Weekly (starred review)

"Thaisa Frank uses one of history's greatest crimes, the Holocaust, as the backdrop to an original, imaginative, and compelling story. Both intellectual and emotional, Heidegger's Glasses has plenty of real life lessons which are still relevant today." —The Huffington Post

"A spellbinding, innovative, intellectually compelling tour–de–force. Thaisa Frank's imagination is boundless: she enchants and horrifies and moves us, often on the same page." —Michelle Huneven, author of Blame

"This is stunning work, full of mystery and strange tenderness. Thaisa Frank has written one of the most compelling stories of the Nazi regime since D. M. Thomas's Pictures at an Exhibition. It is a book that will haunt you." —Dan Chaon, author of Await Your Reply

"Written in the precise prose that has garnered praise for Frank's short fiction, this surreal tale is a vivid reminder of what we must not forget." —Booklist

"A tour de force whose imagery haunts the reader long after the final page is turned." —Jim Moret, author of The Last Day of My Life

"Thaisa Frank has composed a mesmeric image of prisoners trapped in the madness of a decaying Nazi regime. Ms. Frank's skillfully laced prose and riveting imagery combine to create an unforgettably surrealistic portrait of a world gorged on insanity." —Thomas Steinbeck, author of Down to a Soundless Sea

"Philosophical yet searingly passionate, Thaisa Frank's debut novel is essential reading for our own uncertain times. Practically vibrating with empathy, Heidegger's Glasses is one of those rare gifts of literature that makes you feel as deeply as it makes you think. You will never forget it." —Sheri Holman, author of The Dress Lodger

"Heidegger's Glasses has the majesty and significance of novels of another time and place. Thaisa Frank's surreal narrative has the uncanny sensibility of a Yiddish folk tale and the mystical spirit of an Isaac Bashevis singer story." —Katharine Weber, author of True Confections and Triangle

"Heidegger's Glasses suspends us in a world populated with angels and devils, philosophers and survivors, who come alive through passions and actions that seize our minds and hearts. This surreal world explodes and we watch courage walking hand in hand with death until the satisfying end. It is an amazing book." —Louise Murphy, author of The True Story of Hansel and Gretel
Counterpoint, 9781582438108, 320pp.
Publication Date: July 10, 2012
About the Author
Thaisa Frank's short stories have received two PEN awards, and her two previous collections have been on the bestseller list of the San Francisco Chronicle. Her has work been widely translated, and her first novel, Heidegger's Glasses, was published by Counterpoint in 2010.
or
Not Currently Available for Direct Purchase