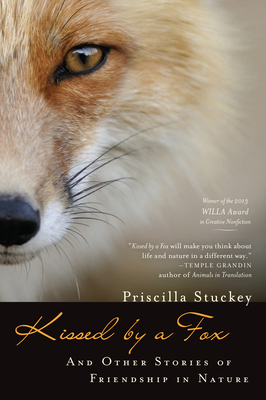 Kissed by a Fox
And Other Stories of Friendship in Nature
Paperback

* Individual store prices may vary.
Description
"Dissatisfaction with nature flows throughout Western civilization, as deep as its blood, as abiding as its bones. Convinced to the marrow that something is deeply wrong with nature, . . . the Western world tries to remake it into something better."



For Priscilla Stuckey, this is a fundamental and heartbreaking misconception: that nature can be fixed, exploited, or simply ignored. Modern societies try to bend nature to human will instead of engaging in give–and–take with a living, breathing land community.



Using her personal experiences as the cornerstone, Stuckey explores the depth of relationship possible with the birch tree in our backyard, the nearby urban creek, the dog who settles on our bed each night.



Drawing inspiration from sources as varied as ancient philosophers and contemporary biologists, Stuckey challenges readers to enact a different story of nature, one in which people and place are not separate, where other creatures respond to human need, and where humans and all others together create the world.



With the eloquence of the great nature writers before her, Stuckey encourages us to open ourselves to the unlimited possibilities of a truly connected life.
Praise For Kissed by a Fox: And Other Stories of Friendship in Nature…
"Through a tenderly woven collection of essays that blend personal reflections with spirituality, philosophy, animal behaviorism, evolution, geology and ecology, first-time author Stuckey explores the great rift between the living, breathing world and the modern culture bent on developing and destroying it...The narratives are well paced, using flashbacks wisely, and the language lyrical, possessing a poet's cleverness of rhythm...[An] entertaining and emotionally resonant book." Publisher's Weekly

"Kissed by a Fox will make you think about life and nature in a different way."Temple Grandin, author, Animals in Translation
Counterpoint, 9781582438122, 384pp.
Publication Date: August 21, 2012
About the Author
Priscilla Stuckey is a writer and spiritual counselor with a passion for reconnecting people with nature, including their own natures. Her first book, Kissed by a Fox: And Other Stories of Friendship in Nature, won the 2013 WILLA Award in Creative Nonfiction. Stuckey received a PhD from the Graduate Theological Union in Berkeley, California, in religious studies and feminist theory. She has taught humanities and writing in the graduate programs of Prescott College and Naropa University. She lives at the base of the Sandia Mountains near Albuquerque with her partner, Tim, and their dog, Bodhi.
or
Not Currently Available for Direct Purchase