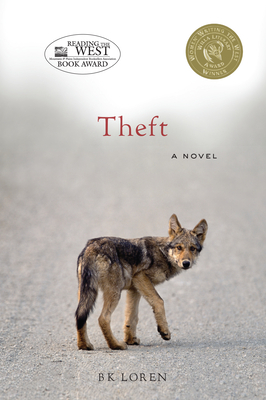 Theft
Paperback

* Individual store prices may vary.
Description
Willa Robbins is a master tracker working to reintroduce the Mexican wolf, North America's most endangered mammal, to the American Southwest. But when Colorado police recruit her to find her own brother, Zeb, a confessed murderer, she knows skill alone will not sustain her. Willa is thrown back into the past, surfacing memories of a childhood full of intense love, desperate mistakes, and gentle remorse. Trekking through exquisite New Mexico and Colorado landscapes, with Zeb two steps ahead and the police two steps behind, Willa must wrangle her desire to reunite with her brother and her own guilt about their violent past. Winner of both the Willa Award and Mountains and Plains Independent Booksellers Award, this debut novel's lyrical prose gives voice to the wildlife and land surrounding these beautifully flawed characters, breathing life into the southwestern terrain. Within this treacherous and mesmerizing landscape, Theft illustrates the struggle to piece together the fragile traces of what has been left behind, allowing for new choices to take shape. This is a story about family, about loss, and about a search for answers.
Praise For Theft…
Praise for Theft:

"BK Loren writes sentences, paragraphs, chapters like lit fuses. Theft is an ambitious and distinctive fiction debut, taking us into the lives of two endangered species, Mexican wolves and a Southwest underclass family, equally hunted by fate." Ivan Doig, author of Work Song

Written with clarity and vision, with prose that is both lyrical and visceral, Loren brings us on a journey of love, human fragility and the meaning of family. Theft is a story about piecing together what was left behind, a bighearted tale delivered in language that is as lovely as the Southwestern landscape it describes. An amazing accomplishment." Mary Gauthier

Here's a debut worth celebrating. Theft has a compelling story to tell, a moving drama that takes us into the Colorado wilderness and keeps circling back to a fraught childhood and to a fierce and loving bond between a brother and sister. That aching bond lies at the core of Theft, making reading the novel a heartrending experience." John Dalton, author of The Inverted Forest and Heaven Lake

How often do we come across a novel that is an achievement in both narrative suspense and in poetry, that wrestles with politics while never giving story short shrift? Theft is such a book, part environmental novel, part elegy to place, part family tragedy, part murder mystery. Capturing heart-raw subjects in incandescent prose, Loren gracefully and unforgettably unites the seen and the unseen worlds, the dark and the light." Ann Pancake

Praise for The Way of the River: Adventures and Meditations of a Woman Martial Artist

Loren's careful, direct prose reflects the still gaze of the martial arts expert." Publishers' Weekly

Loren's beautifully written memoir addresses women's fears, life challenges, spiritual and physical empowerment." The Women's Review of Books
Counterpoint LLC, 9781582438191, 212pp.
Publication Date: June 5, 2012
About the Author
BK Loren has worked as a naturalist, large predator monitor for CO State Parks, professional brainstormer, assistant chef, ranch hand, furniture maker, UPS driver, and college professor. She currently teaches writing at Chatham University's low residency program, the Iowa Summer Writing Festival, and many other venues throughout the United States and Canada. She is a winner of the Mary Roberts-Rinehart National Fellowship and has also received The Dana Award for a novel-in-progress for Theft. Loren currently lives with her partner, two dogs, and two cats in Colorado.