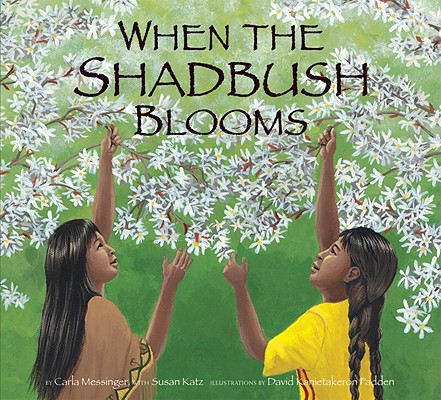 When the Shadbush Blooms (Hardcover)
Tricycle Press, 9781582461922, 32pp.
Publication Date: September 1, 2007
Other Editions of This Title:
Paperback (5/5/2020)
* Individual store prices may vary.
Description
My grandparents' grandparents walked beside the same stream where I walk with my brother, and we can see what they saw.
Today when a Lenape Indian girl ventures to the stream to fish for shad, she knows that another girl did the same generations before. Through the cycle of the seasons, what is important has remained: being with family, knowing when berries are ripe for picking, listening to stories in a warm home.
Told by Traditional Sister and Contemporary Sister, each from her own time, this is a book about tradition and about change. Then and now are not so very different when the shadbush blooms.
About the Author
Carla J. S. Messinger is a Lenape cultural educator and the director of Native American Heritage Programs. She lives in Allentown, Pennsylvania, with her husband Allan and daughter Joy. "When the Shadbush Blooms" is her first children's book.

Susan Katz has written five children's books, including the prize-winning novel, "Snowdrops for Cousin Ruth." She lives with her husband and a house rabbit in Valley Forge, Pennsylvania.

David Kanietakeron Fadden, Wolf Clan Mohawk, grew up in a traditional family of artists, naturalists and storytellers. His illustrations have appeared in books, periodicals, animations, and the Discovery Channel's "How the West Was Lost: Always the Enemy." Dave lives with his family on Kawenoke, also known as Cornwall Island, at Akwesasne Mohawk Territory, a community located on the Canadian-U.S. border.
Praise For When the Shadbush Blooms…
"The book captures so much that is Native: cycles, the particular roles and joys of people of different ages, plants and animals as integral parts of life, the richness of lives lived simply, and our connection to the past, and thus to the future. The language is crystalline, pure and sparkling, nothing wasted; nothing more needed." --Karen Coody Cooper (Cherokee Nation of Oklahoma), Museum Training Coordinator, National Museum of the American Indian

"Both text and pictures invite you in, not as a stranger viewing a different culture, but a welcome guest. ...It does not imbed a Native nation in the distant past. Instead, we see both then and now side by side, deeply connected, flowing into each other." --Joseph Bruchac, Abenaki storyteller and writer

"Over and against the plethora of 'multicultural' writing for young children, this is the one I would choose to show them our pre-conquest lives: the balance of life, the belonging to the land and to each other, and how, for the fortunate among us, it still is that way. The traditions live, we adapt; what sustained us then, sustains now." --Doris Seale (Dakota, Cree, and Abenaki), poet, and editor/author of Through Indian Eyes and A Broken Flute
or
Not Currently Available for Direct Purchase