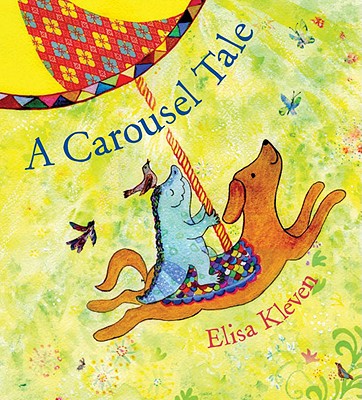 A Carousel Tale (Hardcover)
Tricycle Press, 9781582462394, 40pp.
Publication Date: March 1, 2009
* Individual store prices may vary.
Description
Ernst loves the carousel near his house, and his favorite animal is the dog. When the dog's wooden tail comes loose just before winter, Ernst is given the important job of keeping it safe until springtime.
But the tail looks sad sitting on Ernst's shelf without its dog, and Ernst can t help but try to cheer it up. It isn t long before he has transformed the lonely tail into something wonderful
As spring approaches, Ernst wonders if he will have to give up his special creation. And if he doesn t, what will the poor dog have to wag? The imaginative crocodile from "Ernst "and "The Puddle Pail "shines once again in a story that children will treasure.
About the Author
ELISA KLEVEN writes and illustrates picture books because she's never outgrown a deep childhood urge to enter a magical world. Elisa and her family live in Albany, California. To date, she has written and illustrated thirteen books and illustrated fifteen others.
Praise For A Carousel Tale…
Ernst, the endearing blue crocodile (Ernst, 1989, etc.), reappears in this  joyous, childlike tale that celebrates the power of the creative imagination  to transform the broken into something new, wonderful and whole....Kleven's playful, light-infused collages sing and dance on the pages like  the carousel in springtime.—Kirkus Reviews, STARRED

The vibrant, organic art–mixed media collage with watercolors and pastels–sets the stage for a tender, animate space. Every object, from the tail-turned-bird to a paintbrush resting in a cup of water, emanates warmth and individuality, capturing the (sometimes overwhelming) sensory environment of the imaginative child.—Publishers Weekly

Kleven's dreamy mixed-media collages add depth to this gentle tale of creativity and resourcefulness. The author effectively depicts the interplay between Ernst's gentle introversion and his brother's grouchy pragmatism, with Ernst's creative vision winning out in the end. A good conversation starter on the nature of art and the art of nature.—School Library Journal 

The clear, colorfully detailed, collage pictures celebrate the transforming power of art.—Booklist magazine


Kleven's simple plot is imaginative and child-centered....Creative kids who love to make stuff out of other stuff will adore this, and even those who normally don't may find that it inspires their dormant artistic muse.—Book Review Digest


Kleven's playful, light-infused collages sing and dance on the pages like the carousel in springtime."–Kirkus Reviews *Starred Review*  "Author and illustrator Kleven designs a feast for the eyes with the detailed collages... "Whimsical, brightly colored images swirl across the pages. Readers will linger over the illustrations to savor the details and find such hidden treasures as a reference to Hans Christian Andersen.—Foreword
or
Not Currently Available for Direct Purchase