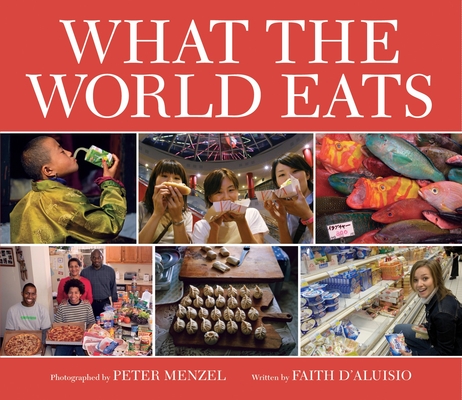 What the World Eats (Hardcover)
Tricycle Press, 9781582462462, 160pp.
Publication Date: August 1, 2008
* Individual store prices may vary.
Description
Sitting down to a daily family meal has long been a tradition for billions of people. But in every corner of the world this age-old custom is rapidly changing. From increased trade between countries to the expansion of global food corporations like Kraft and Nestlé, current events are having a tremendous impact on our eating habits. Chances are your supermarket is stocking a variety of international foods, and American fast food chains like McDonald's and Kentucky Fried Chicken are popping up all over the planet.

For the first time in history, more people are overfed than underfed. And while some people still have barely enough to eat, others overeat to the point of illness. To find out how mealtime is changing in real homes, authors Peter Menzel and Faith D'Aluisio visited families around the world to observe and photograph what they eat during the course of one week. They joined parents while they shopped at mega grocery stores and outdoor markets, and participated in a feast where a single goat was shared among many families. They watched moms making dinner in kitchens and over cooking fires, and they sat down to eat with twenty-five families in twenty-one countries--if you're keeping track, that's about 525 meals!

The foods dished up ranged from hunted seal and spit-roasted guinea pig to U.N.-rationed grains and gallons of Coca-Cola. As Peter and Faith ate and talked with families, they learned firsthand about food consumption around the world and its corresponding causes and effects. The resulting family portraits offer a fascinating glimpse into the cultural similarities and differences served on dinner plates around the globe.

This book has been selected as a Common Core State Standards Text Exemplar (Grades 2-3, Read-Aloud Informational Texts) in Appendix B.
About the Author
Peter Menzel is a photographer known for his coverage of international feature stories on science and the environment. His award-winning photographs have been published in Life, National Geographic, Smithsonian, Time, Stern, GEO, and the New York Times Magazine. He has received a number of World Press Photo and Picture of the Year awards.

Faith D'Aluisio is the editor and lead writer for the Material World book series. She received the James Beard Foundation Award in 1999 for Best Book, Reference and Writing on Food for Man Eating Bugs: The Art and Science of Eating Insects. She is a former television news producer whose work received awards from the Radio-Television News Directors Association and the Headliners Foundation of Texas.

Peter and Faith are the co-creators of the books Material World: A Global Family Portrait, Women in the Material World, and Hungry Planet: What the World Eats, winner of the James Beard Foundation Award in 2005 for Book of the Year. They are also the co-authors of Man Eating Bugs and Robo sapiens: Evolution of a New Species. Peter and Faith live in Napa, California.
Praise For What the World Eats…
2008 IRA Notable Book for a Global Society
2009 Notable Social Studies Trade Book for Young People, NCSS-CBC
Editors' Choice, Booklist
2008 Best Book of the Year, School Library Journal
2008 Best Book of the Year, Children's Nonfiction, Publishers Weekly

Review, Publishers Weekly:
"Brilliantly executed. . . . Engrossing and certain to stimulate."

Review, School Library Journal:
"A fascinating volume for browsing. . . . Visually stunning."

Review, Booklist:
"[This] is a fascinating, sobering, and instructive look at daily life around the world, and it will draw readers of a wide range to its beautifully composed pages."

Review, Book Links:
"Best new book for the classroom."

Review, Kirkus Reviews:
"The plentiful photos are fascinating, offering both intimate glimpses of family life and panoramic views of other lands. Whether used for research or received as a gift from socially conscious adults, this [book] offers children plenty to chew over."