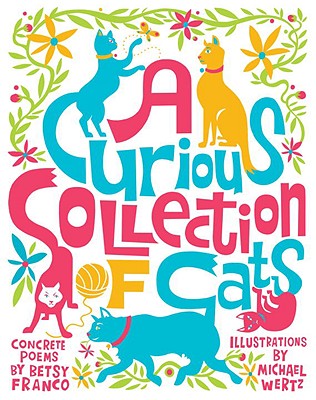 A Curious Collection of Cats (Hardcover)
Tricycle Press, 9781582462486, 40pp.
Publication Date: April 14, 2009
* Individual store prices may vary.
Description
The quirky ways of cats are exquisitely captured in more than thirty original visual poems. From acrobat-flipping to toilet-bowl-sipping, couch-scratching to dog-catching, this insightful collection celebrates the fickle feline in ways that any cat lover will appreciate.
About the Author
BETSY FRANCO has written over eighty books, including poetry collections, picture books, and a YA novel. Her anthologies of teenage poetry have appeared on the ALA Best Books and Quick Picks lists. Betsy lives in northern California, with her husband and two cat-muses, Jada and Frida. MICHAEL WERTZ has taught Illustration at the California College of the Arts and is the co-founder of Monster Illustration, a loose confederation of illustrators who banded together in 1996. Michael lives and works in Oakland, California, with his husband and their dog Olive, who helped inform Michael's observations of the neighborhood cats.
Praise For A Curious Collection of Cats…
An ABC Best Book for Children

Starred Review, The Horn Book:
"An ideal match of subject and form....Cat-lovers will feel a shock of recognition....Together, poet and artist convey the silliness of cats and their humans without ever being silly themselves....From acrobat-flipping to toilet-bowl-sipping, couch-scratching to dog-catching, words and pictures blend together to create a funny celebrate of all things feline."

Review, Language Arts, July 1, 2010:
"Every cat lover and classroom will want to add this purrfect book to their libraries, and will certainly want to share this on ewith a cat or two."

Review, Booklist:
"Cat lovers will recognize the standoffs with arching backs, the cozy touch of the 'purrfect' scarf on their shoulders, and the tech-savvy cat who walks across the keyboard to add her own note to an e-mail to a friend."

Review, San Francisco Chronicle:
"Thirty concrete poems that stretch, crouch, pounce, and purr across the pages, like their feline subjects."

"Every cat lover in the universe ought to own this endearingly wacky collection of poems accompanied by purrfect art. It's an homage to burnish a coffee table...or freshen a litter box. Cats, as Betsy Franco knows, read too." —J. Patrick Lewis

"Step aside Mr. Eliot! Make room for Ms. Franco's fabulous cast of felines. This marriage of concrete poetry and art is one to pore and purr over again and again." —Lee Bennett Hopkins

or
Not Currently Available for Direct Purchase