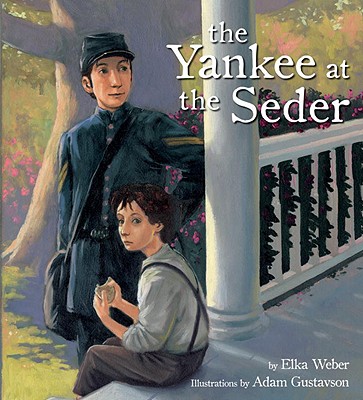 The Yankee at the Seder (Hardcover)
Tricycle Press, 9781582462561, 40pp.
Publication Date: March 10, 2009
* Individual store prices may vary.
Description
The war is over, and everyone is saying the South lost. Ten-year-old Jacob would give anything to show those Yankees that not all Confederates are ready to surrender.
He gets his chance when he sees a real, live Yankee soldier walking down his street, on leave for Passover. But before Jacob can think of a way to be brave, the Yankee asks him for a piece of his matzoh.
This true story about a Jewish Yankee soldier joining a Southern family's Passover meal shows how common values can overcome even the most divisive differences. Gathered around the seder table, the group discusses what it means to be free--a subject as relevant today as it was during the War between the States and during the Exodus.
About the Author
Elka Weber loves making history come alive. She has taught history to both high school and college students and authored nonfiction works for adults. Elka lives in New Jersey with her husband, five children, and a pile of Haggadahs for Passover. This is her first book for children. Adam Gustavson s floor is currently covered with Civil War books and photos of antique seder platters. A graduate of Rowan University and The School of Visual Arts, he paints and teaches in New Jersey, where he lives with his patient and lovely family. This is his fourteenth book for children."
Praise For The Yankee at the Seder…
Starred Review, Publishers Weekly:
"Sensitively written and beautifully illustrated."

Review, Kirkus Reviews:
"The handsome design features decoratively framed text boxes opposite Gustavson' s expressive, realistic oil paintings. Should spark discussion around the seder table and in classrooms of history."

Review, Book Review Digest:
"The book offers any number of promising uses: it's a fascinating Civil War story with a difference, it's an American counterpart to the World War I Christmas in the trenches story, and it's a rich tale of people finding connections through faith in a difficult time. Weber provides a glossary before the story and concludes with a compact, personal explanation of the festival of Passover, so even those unfamiliar with the holiday will have no difficulty in understanding its import in the story."

Review, Social Edication, June 1, 2010:
"...an engaging discussion about freedom as Jewish traditions are celebrated."
or
Not Currently Available for Direct Purchase