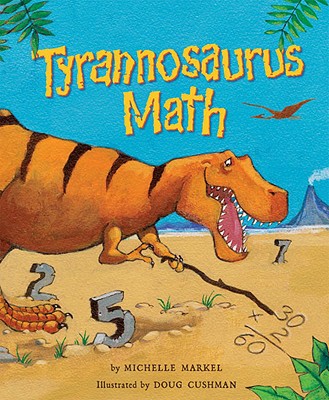 Tyrannosaurus Math
Hardcover

* Individual store prices may vary.
Description
Who can add an entire herd of triceratops, multiply the legs of a group of ankylosaurs, and estimate the distance to the next tasty meal?

TYRANNOSAURUS MATH!

He's a number-crunching dinosaur who chews on math problems as easily as he thunders through the trees. When his little sister is in terrible danger, T-Math even saves the day by using his measurable math skills. Is there anything he can't figure?
Praise For Tyrannosaurus Math…
Markel's engaging story has just the right blend of math concepts, dinosaur info, and silly humor, and Cushman's textured acrylics reinforce the math and add to the amusement factor. A final page describes the different math skills applied throughout the book.—The Horn Book Review
Tricycle Press, 9781582462820, 32pp.
Publication Date: August 11, 2009
About the Author
TYRANNOSAURUS MATH, a close relative of Tyrannosaurus rex, lived in the late Cretaceous Period, 65 to 68 million years ago, in Western North America. He and his siblings were eleven to fourteen feet tall, weighed five to seven tons, had two-and-a-half foot long arms, two-and-a-half foot long feet, and teeth that were ten inches long!

MICHELLE MARKEL, the author of five children's books, has also written for national newspapers and taught in elementary schools. Tyrannosaurus Math grew out of an experience in the classroom: "One day I was teaching math to second graders. Knowing how kids loathe word problems, I invented some of my own, using dinosaurs. The kids loved them." The rest is prehistory. Michelle lives near Los Angeles.

DOUG CUSHMAN, a Northern Californian now living in Paris, has written and/or illustrated more than one hundred children's books. In high school, Doug created comic books lampooning his teachers, and he sold them to classmates for five cents a piece.
or
Not Currently Available for Direct Purchase