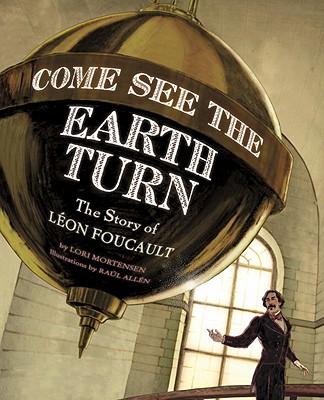 Come See the Earth Turn (Hardcover)
Tricycle Press, 9781582462844, 32pp.
Publication Date: September 14, 2010
* Individual store prices may vary.
Description
A sickly child, a poor student, and a medical school dropout, Léon Foucault seemed an unlikely candidate for greatness. But his ingenious experiment—simple, beautiful, and stunningly original—changed how we see the world.
 
Scientists knew that the earth turned on its axis. But how could they prove it? Countless experiments had been tried . . . and had failed. Then, one historic day in Paris, Léon Foucault gave a magnificent demonstration that offered the proof everyone had been looking for.

Discover the improbable story of the man behind the famous Foucault's Pendulum.
About the Author
Like Leon Foucault, when LORI MORTENSEN was a kid, she was surrounded by experiments--not her own experiments, but experiments conducted by her father, a research chemist. As she grew older, her father dazzled her and her sister with all sorts of demonstrations--white waxy stuff that burst into flame when exposed to oxygen, food coloring that wicked up wet paper and separated into its primary colors, and backyard weeds that he distilled into his own special brand of cologne. Although Lori did not become a chemist, she remembered the fun of learning and discovery. Today, she is an award-winning, multi-published author who writes about all sorts of fascinating subjects ranging from Ancient Egypt, to honey bees, to Amelia Earhart. She lives and writes in the foothills of northern California with her family and a cat named Max.

RAuL ALLeN grew up in Valladolid, Spain. He received a degree in Fine Arts from the University of Salamanca and then moved to Boston to study illustration and design. Raul's work has been exhibited in New York, Boston, Madrid, and Barcelona, and has appeared in "Rolling Stone" and "GQ" magazines, among others. Raul now lives in Spain. His first American picture book, "Ocean Wide, Ocean Deep, " was also published by Tricycle Press.
Praise For Come See the Earth Turn…
Review, The Wall Street Journal, September 26, 2010:
"An atmospheric picture book. ...The story of Foucault's tripumph--enhanced by the visual drama of Raúl Allén's sepia-toned illustrations--makes a suprisingly diverting read for young children."

Review, Scientific American, December 1, 2010:
"... elegantly illustrated ... "
or
Not Currently Available for Direct Purchase