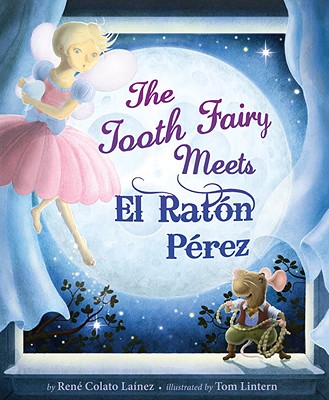 The Tooth Fairy Meets El Rat?n P?rez (Hardcover)
Tricycle Press, 9781582462967, 32pp.
Publication Date: March 23, 2010
Description
The Tooth Fairy has some competition.
Meet El Raton Perez, the charming and adventurous mouse who collects children's teeth in Spain and Latin America.
When both the Tooth Fairy and El Raton Perez arrive to claim Miguelito's tooth, sparks fly under the Mexican-American boy's pillow. Who will rightfully claim his tooth?
This magical tale introduces a legendary Latino character to a new audience and provides a fresh take on the familiar
childhood experience of losing one's tooth.
About the Author
Rene Colato Laonez has authored several picture books including Playing Loteria and I Am Rene, the Boy. His books have won a Criticas magazine Best Book award, a Latino Book Award for Best Bilingual Picture Book, and were Tejas Star Book Award Finalists. Rene is a children's literature columnist for La Bloga and received a special recognition as teacher and author by the Los Angeles Board of Education. He graduated from Vermont College with an M.F.A. in Writing for Childen and Young Adults. Tom Lintern is a designer, illustrator, and storyboard artist living in New York City. He began drawing in pencil when he was five and still uses pencil on paper for much of his work today. The Tooth Fairy Meets El Raton Perez is his first picture book.
Praise For The Tooth Fairy Meets El Rat?n P?rez…
Review, Through the Looking Glass, June 1, 2010:
"This delightful picture book combines the traditions of Latin countries with those of Anglo Saxon ones bringing together the Tooth Fairy (who is English in origin) and El Raton Perez (who first appeared in a book in Spain in 1894.) Children who are about to lose a tooth will greatly enjoy this story about cooperation and friendship."

Review, School Library Journal:
"When Miguelito hides his lost tooth under his pillow, he has no idea that he is setting off a power struggle between the English-speaking world's Tooth Fairy and her Spanish-speaking counterpart, El Ratón Pérez.... Young readers may not consciously recognize this tale as a metaphor for growing up in two cultures, but the story does model how to successfully negotiate a bicultural life... An excellent selection for libraries serving bicultural families."

"A marvelous story merging cultures seamlessly and with great humor. Adults will enjoy this read-aloud just as much as kids." —Sandra Cisneros, award-winning author of The House on Mango Street
Advertisement