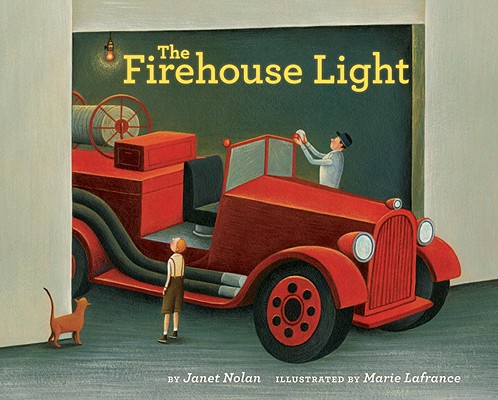 The Firehouse Light (Hardcover)
Tricycle Press, 9781582462981, 32pp.
Publication Date: May 25, 2010
Description
Day after day, year after year,
the lightbulb did not burn out. Here is the true story of a little lightbulb, located in a firehouse, that has stayed lit for more than one hundred years. As horse-drawn carriages make room for automobiles, dirt roads give way to paved streets, and new buildings transform small clusters of homes into bustling neighborhoods, a small town grows and changes. And fighting fires changes, too: fires once fought by bucket brigades and hand-pulled hose carts are now attended by full-time firefighters and modern firetrucks. Yet now, just like then, the lightbulb glows, strong and steady, above the brave firefighters and their trucks.
About the Author
JANET NOLAN has written two previous picture books and lives in Oak Park, Illinois. About The Firehouse Light, Janet says, "The lightbulb has been the subject of numerous newspaper and magazine articles, television and radio shows. It has caught the attention of Ripley's Believe It or Not and the Guinness Book of World Records." Janet currently serves as Program Co-Chair for the Illinois chapter of the Society of Children's Book Writers and Illustrators (SCBWI). MARIE LAFRANCE has illustrated more than twenty children's books and is originally from Quebec City. She studied graphic arts at CEGEP in Vieux-Montreal and etching at Studio Graff. Marie has lived in San Francisco and New York, where she worked as a silk-screen printmaker for various galleries. She returned to Montreal to work as a freelance illustrator and has been nominated for many awards, including the prestigious Governor General's Award. Marie lives with her partner and their daughter, Beatrice.
Praise For The Firehouse Light…
Starred Review, School Library Journal, August 17, 2010:
"Nolan's unassuming storytelling is perfect for reading aloud. ...This is a fascinating story that will appeal to those looking for a unique perspective on American cultural history."

Review, Booklist, June 1, 2010:
"A four-watt bulb installed in the firehouse during horse-and-buggy days glows through decades of change: from horses to automobiles; from axes and buckets to hoses and oxygen masks; from radios to television and computers: and from small town to contemporary city.... A good choice for children who seek offbeat nonfiction, this is also a fresh approach for units on community helpers."

Review, Kirkus Reviews:
"The little-town-over time theme—and the fire trucks—exert plenty of child-friendly appeal."


Advertisement