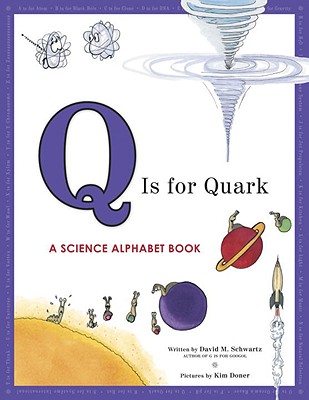 Q Is for Quark: A Science Alphabet Book (Paperback)
A Science Alphabet Book
Tricycle Press, 9781582463032, 64pp.
Publication Date: October 13, 2009
Description
A is for Atom, B is for Black Hole, C is for Clone-hang on to your test tubes, we'?re covering a lot of ground here But both the science-curious and the science-phobic are in for a treat as the author of one of the wittiest math books around takes on a new topic. Ranging freely from DNA to jet-propelled squid to proof that it''s best to prepare dragon tonic using the metric system, this smorgasbord of science topics makes a great classroom resource or gift for the budding scientist. By the time kids plow through all the quirky pictures and funny captions we'?re sure they'?ll agree that W is for Wow 55,000 hardcover G is for Googol: A Math Alphabet Book in print.A A Smithsonian Notable Books for Children 2001 A Educators, please visit our Resources section, above, for teaching guides and curricula . From the Hardcover edition.
About the Author
As a child, KIM DONER aspired to be a Ballerina-Veterinarian-Artist-- dancing at night, saving animals by day, and summering in Africa to draw wild animals from a treehouse. Today, she has made those dreams a reality-sharing her love of the arts through her award-winning children's books, rehabilitating wildlife, and planning a return to Africa with her husband. Kim lives in Tulsa, Oklahoma. DAVID SCHWARTZ is the author of 50 children's books, including G IS FOR GOOGOL and Q IS FOR QUARK. He is a frequent guest speaker at schools in the US abroad. He lives with his wife-and co-author-YAEL SCHY in Oakland, California. From the Hardcover edition.
Praise For Q Is for Quark: A Science Alphabet Book…
Starred Review, Library Talk:
Editor's Picks: "A well-written, informative alphabet book that will be an asset to anyone wanting to make science fun."

Review, Smithsonian Magazine:
"Sophisticated and entertaining. . . .disarmingly accessible book, not just for kids."

Review, School Library Journal:
"This book does for science what Schwartz's G IS FOR GOOGOL did for math."

Review, L.A. Parent, June 9, 2010:
"Chocked full of fascinating information."

Review, Children's Literature Newsletter:
"[Will] make science fun. . . . does not talk down to kids; it makes them stretch and in the process they may be interested enough to dig even further in the scientific disciplines." -Marilyn Courtot
Advertisement