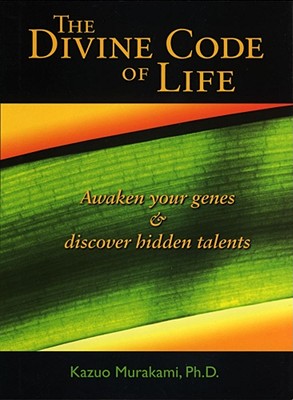 The Divine Code of Life (Hardcover)
Awaken Your Genes and Discover Hidden Talents
Atria Books/Beyond Words, 9781582701448, 200pp.
Publication Date: April 28, 2006
Other Editions of This Title:
Paperback (8/12/2017)
* Individual store prices may vary.
Description
For many years, genes have been thought of as immutable: "You can't change, it's hereditary" was the mantra. But studies now show that genes are functioning and changing, every minute, every second. According to The Divine Code of Life, dormant genes have the potential to "wake up" and transform personality and outlook. The book shows how mental and emotional factors—negatives like stress and positives like excitement, joy, gratitude, and spirituality—are also involved in switching genes on or off. Drawing on recent scientific research and the author's own observations, this book shows that humans can bring forth their talents at any age. How? Dr. Murakami argues that a positive outlook can turn on the genes that are necessary to bring happiness and success into anyone's life and turn off the bad genes. He calls this process "genetic thinking"—a science-based approach to controlling the genes by cultivating enthusiasm and inspiration.
About the Author
Dr. Kazuo Murakami is one of the top geneticists in the world and Professor Emeritus at the University of Tsukuba, one of Japan's leading research universities. In 1963, he obtained a Doctorate of Agricultural Chemistry from the Graduate School of Agriculture at Kyoto University and then became a researcher at Oregon Health & Science University. In 1976, Dr. Murakami started as assistant professor at Vanderbilt University. He was appointed Professor of Applied Biochemistry at Tsukuba University in 1978 where he began genetic research. In 1983, he decoded the human enzyme renin—a hidden factor behind hypertension—which won him international acclaim. In 1990, he won the Max Planck Research Award. In 1994, he became director of the Tsukuba Advanced Research Alliance Center at the University of Tsukuba. In 1996, he was presented with the Japan Academy Prize in recognition of his achievements.
Praise For The Divine Code of Life: Awaken Your Genes and Discover Hidden Talents…
"Humankind in the twenty-first century is faced with challenges that cannot be solved by science or religion alone. We need to blend out spiritual understanding with modern scientific knowledge in order to overcome suffering. Kazuo Murakami's important research brings us closer to that goal."
—His Holiness the Dalai Lama

"The Divine Code of Life is one of the best discussions I have seen on the interplay of genes, environment, and consciousness. It is a devastating argument against genetic determinism and the idea that one's identity is written in the genome. It captures the majestic and spiritual dimension of the universe without being too religious. I think it turned on a a few of my good genes."
—Larry Dossey, MD, author of Reinventing Medicine and The Extraordinary Healing Power of Ordinary Things

"Dr. Murakami's book is a sage description of elegant science and its potential application to significantly improve the readers' lives. Awe, respect, and the author's passion for cutting-edge science fill the pages with information that provides sound reasons to live in a positive way. The importance of our minds in creating our personal environment for success and happiness is clearly established. Inspiring and solidly based, The Divine Code of Life is a beacon of light for these challenging times."
—Joyce W. Hawkes, PhD, author of Cell-Level Healing
or
Not Currently Available for Direct Purchase