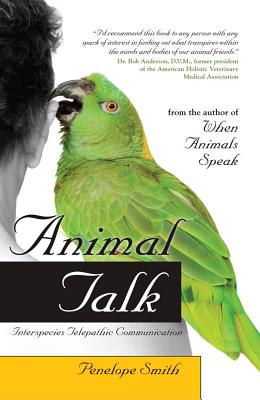 Animal Talk (Paperback)
Interspecies Telepathic Communication
Atria Books/Beyond Words, 9781582702148, 192pp.
Publication Date: September 16, 2008
* Individual store prices may vary.
Description
Three decades ago, Penelope Smith fi rst presented Animal Talk and her effective telepathic communication techniques that can dramatically transform your relationships with your animal companions. Rereleased by popular demand, Smith once again shares her insightful wisdom and illuminates topics such as freedom, control, obedience, behavior, and relationships between animals. Animal Talk teaches you how to open the door to your animal friends' hearts and minds without resorting to magic tricks or wishful thinking. Every creature can be reached through telepathic communication -- from your tabby cat or cockatiel to the wasps that build nests in the eaves of your home or even the common flea -- you just have to be open to the idea, and mind-to-mind communication will be in your grasp.
About the Author
Penelope Smith is the well-known pioneer in the field of interspecies communication, author of the popular books Animal Talk and When Animals Speak, and editor of the quarterly magazine Species Link. Her visionary work has been featured in the United States and abroad. She has developed amazing telepathic communication techniques that complement both ancient wisdom and modern scientifi c knowledge, and believes that the sacred connection we make through telepathic communication with other species is essential for human wholeness. She lives in Prescott, Arizona.
Praise For Animal Talk: Interspecies Telepathic Communication…
"In Animal Talk, Penelope Smith delivers a pioneering approach to the field of animal communication and explains the interspecies world of communication insightfully and accurately."
—Dr. Kim Ogden-Avrutik, author of Ask the Animals

"A childhood dream and half-faded memory come true!"
—Allen M. Schoen, D.V.M., author of Kindred Spirits

"Penelope is making an important contribution to the welfare and understanding of animals, leading to a greater harmony between the human and the other kingdoms."
—Peter Caddy, cofounder of the Findhorn Community in Scotland