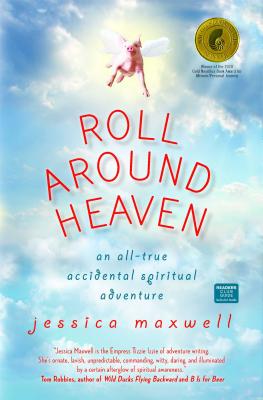 Roll Around Heaven
An All-True Accidental Spiritual Adventure
Paperback

* Individual store prices may vary.
Other Editions of This Title:
Hardcover (10/6/2009)
Description
An all-true accidental spiritual adventure that led one non-believer to lunch with Deepak Chopra, dance with Stephen Hawking, heal with Yogananda, banish evil spirits with Buddhist lamas, find true love in a Presbyterian church choir, share Celtic revelations on the isle of Iona, talk all night with the Daughters of Islam, and learn an abiding respect for all paths to God.

When Jessica Maxwell—nationally acclaimed adventure-travel writer and self-professed spiritual klutz—saw a vision of her father's face filling the sky three days after his death, she had no idea that it foreshadowed a dizzying spiritual journey. Drawn kicking and screaming into the bright light of spiritual reality, she soon traded in her hip waders for halos as her world travels brought her face-to-face with enlightened teachers from all the great religions.

Chronicling nearly two decades of Jessica Maxwell's spiritual adventures and filled with astonishing stories, witty asides, and breathtaking revelations, Roll Around Heaven offers readers a perfect recipe for spiritual success in a chronically baffling world.
Praise For Roll Around Heaven: An All-True Accidental Spiritual Adventure…
"Jessica Maxwell is the Empress Tizzie Izzie of adventure writing. She's ornate, lavish, unpredictable, commanding, witty, daring, and illuminated by a certain afterglow of spiritual awareness." —Tom Robbins, author of Wild Ducks Flying Backward and B Is for Beer

"Jessica Maxwell and her book are the real deal. Inspiring, encouraging, full of enough good humor and awkward learning to make anyone on the spiritual path laugh and keep going. That's my kind of adventure."
Dr. Susan Corso, Huffington Post
Atria Books/Beyond Words, 9781582702377, 304pp.
Publication Date: July 13, 2010
About the Author
The daughter of a Scottish New Zealander and an Arabic-Cajun, Jessica Maxwell has the whole wide world in her blood. True to her pedigree, she is a widely published international adventure writer, author and photographer with a special emphasis on food, conservation, women's journeys and spiritual transformation. The youngest writer to pen Esquire's Travel column (1985 – 1997), she created and wrote Audubon's True Nature in-the-field conservation column (1992 – 1997) before authoring travel books on flyfishing, golf and women's adventure. She is a longtime contributor to the LIFE section of Forbes, and regular presence in AARP The Magazine, Gourmet, and More.
A former California beach girl, she earned a degree in Magazine Journalism at the University of Oregon–including spending her junior year in Aix-en-Provence–and now lives in Western Oregon, with her trial attorney husband Tom "Mr. Quotable" Andersen at Gaiety Hill House, a historic Georgian manor where she happily serves their guests afternoon tea and grand feasts, especially when her beloved stepsons, Ben and Eli, are in town...unless she's out stalking giant Norwegian grouse or chasing away evil spirits with a Himalayan Rinpoche.