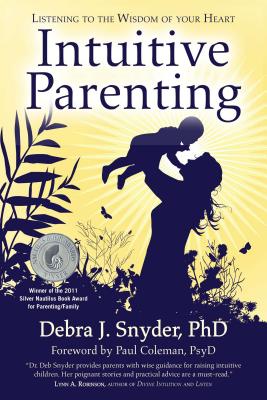 Intuitive Parenting
Listening to the Wisdom of Your Heart
Paperback

* Individual store prices may vary.
Description
What if you could slow down, tap in, and pay attention to the clues and cues your children are giving you? Intuitive Parenting is an easy-to-use guide for parents and caregivers interested in improving communication with the children in their lives. Your children's hearts are speaking—do you know how to listen? Dr. Debra Snyder, an intuitive therapist and holistic practitioner shares her groundbreaking guide to energy communication and healing, showing readers how to enhance their communication with children via subtle energy systems. Unlike other books on spiritual parenting that focus solely on changing the child, Intuitive Parenting works just as much on the parent's growth and entire family dynamic. With exercises, journaling prompts, and interwoven client stories, the book will resonate with parents, caretakers, teachers, therapists, and holistic health practitioners how to foster communication at the heart level.
Praise For Intuitive Parenting: Listening to the Wisdom of Your Heart…
Dr. Deb Snyder provides parents with wise guidance for raising intuitive children. Her poignant stories and practical advice are a must-read for anyone who desires a greater connection with the children they love.
—Lynn A. Robinson, author of Divine Intuition and Listen

Debra Snyder has harnessed her intuition and heart to become a conscious observer of the process of parenting in the newly emerging Intuition Age. I love this! It's about time parents began to understand the soul dynamics of their children, and how kids' energy patterns actually work. We need integrated children to be the leaders in the complex energy-based reality that's coming.
—Penney Peirce, author of Frequency and The Intuitive Way

My first experience of Debra Snyder was meeting her in person. Her authentic, intuitive, expansive and compassionate self infuses her writing. The insights and honesty of Debra's journey resonates throughout this book—there is wisdom here for all of us.
—Joyce Whitelely Hawkes, PhD, author of Cell-Level Healing
Atria Books/Beyond Words, 9781582702506, 224pp.
Publication Date: May 11, 2010
About the Author
Debra J. Snyder, PhD is a writer, speaker and intuitive consultant. She holds a Doctorate of Philosophy in Metaphysics from the American Institute of Holistic Theology, and is a Board Certified Holistic Health Practitioner offering instruction on Intuitive Parenting in private sessions, classes and seminars throughout the country. Debra's published doctoral dissertation, Spiritual Healing and the Special Needs Child, explores research available in the growing field of energy medicine and its application to disabled children.

She has been featured in publications, broadcasts, and websites such as the national magazine Exceptional Parent, which ran her article on "The Glow of an Intuitive Heart" in their December 2007 print edition and currently feature it in their online magazine. Debra has been a featured speaker at a variety of energy healing, holistic health, and parenting conferences and groups, including the Total Wellness Expo and the Maine Center for Spiritual Enrichment.