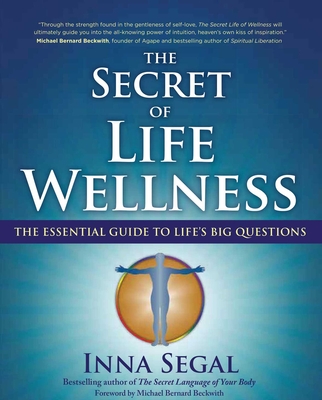 The Secret of Life Wellness (Paperback)
The Essential Guide to Life's Big Questions
Atria Books/Beyond Words, 9781582702865, 304pp.
Publication Date: September 10, 2013
* Individual store prices may vary.
Description
Heal your body and discover your deepest purpose with this transformative guide to integrating wellness and restorative solutions into your everyday life.

Everyone comes into this world with the ability to be a visionary, access Divine wisdom, and follow their internal guidance system. The challenge is accessing and utilizing the inner compass we all have.

In The Secret of Life Wellness, Inna Segal goes beyond physical healing to demonstrate that life wellness reflects health wellness. By answering twenty-one of life's biggest questions, Segal guides you through every stage of your personal well-being and invites us all to look within to find answers. From losing weight to raising confident children and dealing with loss, Segal covers the full spectrum of human challenges.

With simple wisdom and easy and impactful exercises that can be integrated into one's day-to-day life, Segal clears away the complexity to offer "must have tools" for healing, transformation, and evolution.

Discover life-changing secrets to enable you to:

• Develop your intuition
• Dramatically improve your health
• Create harmony in your relationships
• Discover your soul's purpose
• Attract money and success into your life
• Embrace your shadow side
• Deal with challenging emotions
• Use your energy centers to heal and evolve
• Attract and understand soul mates
• Experience unconditional love and much more...

Plus, Microsoft tags throughout the book give you the option of listening to Segal guide you frst hand through powerful healing techniques.
About the Author
Inna Segal is an internationally recognized healer, professional speaker, author, and television host whose clients include doctors, CEOs, actors, and athletes. When Inna was a teenager she suffered from severe back pain. Though she visited numerous healthcare professionals, Inna's pain was so intense that for weeks she was barely able to walk. In an incredible twist of fate, Inna, while meditating, discovered an unusual way of communicating with her body. By tuning into her back and releasing all the pain and negative emotions, she was able to heal herself. Inna Segal now dedicates her time to assisting others in their journey of self-healing and empowerment.
Praise For The Secret of Life Wellness: The Essential Guide to Life's Big Questions…
"The Secret of Life Wellness is full of truth. And contains precisely what is required to live a healthy and joy filled life!"
— Christiane Northrup, MD

"Inna shares universal truths we can all learn from, as she presents them in a way that is practical, inspiring, and powerful. Our lives, past and present, are stored within us and must be confronted and healed."
— Bernie Siegel, MD

"...an impressive guidebook to the transformative power of intuition."

"If you want to find easy, effective intuitive methods that apply to a wide range of life's tasks and undertakings, this is the book for you! In The Secret of Life Wellness, Inna Segal gives many tips and techniques that can strengthen your intuition and turn your life into a spiritual practice. She shows you how powerful your imagination can be!"
— Penney Peirce

"The Secret of Life Wellness offers fresh insights and powerful techniques that will impact every area of your life. Inna Segal is a true visionary who shares important wisdom for our times. If you want to create a life filled with happiness, love, and prosperity, I highly recommend this book."
— Marci Shimoff

"To truly understand the secrets to Life's Big Questions, read Inna's book The Secret of Life Wellness. It's sensational!"
— Thom Hartmann

"Inna Segal has written a clarified and inclusive guide to wellness. The Secret of Life Wellness is a wonderful invitation to wholeness. Highly recommended!"
— Jeff Brown

"Inna Segal is a powerful visionary and healer whose work is only surpassed by the heart she brings to it. The Secret of Life Wellness outlines the divine elixir for bringing one's experience into a state of grace-filled well-being. This book is a 'must have' for your journey."
— Simran Singh