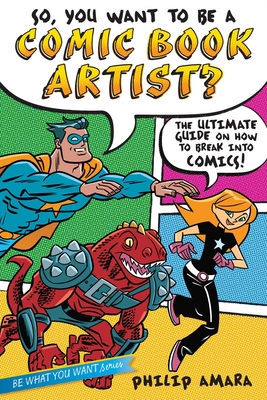 So, You Want to Be a Comic Book Artist? (Paperback)
The Ultimate Guide on How to Break Into Comics! (Be What You Want)
Aladdin/Beyond Words, 9781582703572, 176pp.
Publication Date: September 4, 2012
Other Editions of This Title:
Hardcover (9/4/2012)
Prebound (9/4/2012)
* Individual store prices may vary.
Description
Find success as a comic book artist with this step-by-step guide to creating, publishing, and marketing your very own comics.

The secrets to comic book creation are at your fingertips! This comprehensive guide details the steps to becoming a hit comic book maker—from creating compelling characters and illustrations to getting published and marketing a finished product—and is full of insights from world-famous artists from such companies as DC, Marvel, and Dark Horse. In addition to highlighting tips from seasoned pros, inspiring success stories from young artists are sprinkled throughout along with a resource list of potential publishers to help you hit the ground running.
So, You Want to Be a Comic Book Artist? also features in-depth chapters on adapting a storyline for video games and movies, using social media to promote a finished product, and self-publishing your own comic. Whether you're just starting out or have been drawing comics for years, this book will get you where you want to go.
About the Author
Phil Amara is cocreator of the Nevermen and Sky Ape comics. As an editor, his books have won Eisner Awards in the comics industry, as well as an American Illustration Award and a Society of Illustrators Silver Medal. His first children's picture book is called Treehouse Heroes. As a schoolteacher, his Mighty Writers program uses comic books and movies to inspire young storytellers.
Praise For So, You Want to Be a Comic Book Artist?: The Ultimate Guide on How to Break Into Comics! (Be What You Want)…
"Any young cartoonist dreaming of breaking into the field of comics and graphic novels must have this book! It's a treasure trove of useful information and solid cartooning principles and practices. Understanding and developing story ideas and plot, creating characters, laying out pages, self-publishing, understanding the comics publishing business, and interviews with novice and professional cartoonists—I wish I had this book when I was a kid! Parents will find this a valuable resource to promote their child's burgeoning interest in this exciting career. And teachers will find this an invaluable resource for their students' self-directed learning opportunities."
—Richard Jenkins, author of Comics In Your Curriculum

"So You Want to Be a Comic Book Artist? is everything the ten-year-old me wanted! Perfect for daydreamers, four-color optimists, and doers of daring deeds, this book will give kids and kids-at-heart the tools to make their imaginations soar. Insightful and accessible, Amara has created more than just a how-to book, it's a love letter to a truly American art form—comics!"
—Matthew Cody, author of Powerless

"So, You Want to Be a Comic-Book Artist? is a wonderful place to begin a journey into making comics! Phil takes his personal experience in the comics industry and combines it with his passion for teaching. This is a must read for anyone interested in not only creating, but also understanding sequential art."
—Keith Wood, art director, Oni Press

"This is the lively, engrossing guide that I wish I had when I was an isolated country boy writing and drawing my own comics. Now young creators can see that there are more opportunities and outlets than ever to tell and share their stories! Phil Amara has assembled an engaging book that shows kids that creating comics isn't necessarily easy as pie—but the form and the industry aren't nearly as impenetrable as some may think. Let creativity reign! This book is a great how-to primer on comics for kids—or an entry-level introduction to the form and the industry for anyone who wonders how comics are put together! Unleash your inner superhero!"
—Phil Simon, editor, Dark Horse Comics

"I love the range of guidance given to kids but also the range of "real" artists who contribute to the book. Their varied styles and "degrees of sophistication" make room for all sorts of dreamers! It is a rich resource for aspiring comic artists!
—Dr. Carol Ann Tomlinson, author of The Differentiated Classroom

I find myself cheering this book at nearly every paragraph. The straightforward text and the structure of the presentation could make So, You Want to Be a Comic Book Artist? the standard text for teaching comics in school.
—Jon Bogdanove, comics artist, DC Comics, Marvel Comics, Dark Horse Comics
or
Not Currently Available for Direct Purchase