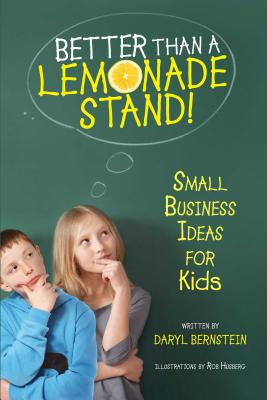 Better Than a Lemonade Stand!: Small Business Ideas for Kids (Hardcover)
Small Business Ideas for Kids
Beyond Words Publishing, 9781582703602, 190pp.
Publication Date: May 1, 2012
Description
Start on the early road to success while having fun, learning new skills, and making money with this guide of more than fifty entrepreneurial ideas. Filled with delightfully simple business ideas, Better than a Lemonade Stand is a fun guide packed with creative ideas that show how to start a business with little or no start-up costs, attract and retain customers, develop negotiating skills, and more.
Originally written and published when the author was only fifteen years old, Better than a Lemonade Stand has already helped thousands of kids start their own profitable small businesses. Now an adult and father himself, Daryl Bernstein has polished and expanded his book for a new generation of budding entrepreneurs.
This indispensable resource includes more than fifty, fun, simple business ideas--complete with tips about supplies, time needed, what to charge, and how to advertise--all completely updated with strategies based on Bernstein's own experience as a successful entrepreneur and father.
About the Author
Daryl Bernstein started his first business, a lemonade stand, at the age of eight. At age twelve he launched Global Video, an educational video distribution company, and at age twenty-four sold it for $34.4 million. As both a father and a successful entrepreneur, Bernstein has a passion for inspiring young people. His books include Better than a Lemonade Stand!, Kids Can Succeed, and The Venture Adventure. His amazing life story, successful business ventures, and published works have been covered by CNN, NPR, The Wall Street Journal, The New York Times, and many more. Bernstein lives in Santa Barbara, where he is founder and CEO of the award-winning software company, RightSignature.
Praise For Better Than a Lemonade Stand!: Small Business Ideas for Kids…
An entrepreneur from an early age, Bernstein offers clear and practical advice for young people wanting to raise some extra cash or begin their own entrepreneurial careers.
Bernstein wrote this guide in 1992 when he was 15. Now updated with information on Internet-based jobs and using social media, the volume is attractive in its spacious design and cartoon illustrations, a format that makes it eminently accessible to young readers. Open anywhere and begin browsing to find ideas for jobs: babysitting broker, curb-address painter, face painter, house checker, newspaper mover, snow shoveler and jewelry maker. Fifty-five short chapters, each on a different business idea, suggest a world of options for kids, many of whom are too young to apply for jobs at restaurants, car washes and the like. Here they will learn how to create their own jobs according to their own interests and enthusiasms, and besides making money, they will learn to take responsibility for their finances. Each section includes such advice as what to charge, what types of supplies are needed, how to advertise and other helpful hints. The writing is clear and matter-of-fact, and the backmatter includes further guidance on online fundraising, child-labor laws and social-media resources.
A handy reference for libraries and parents to have on hand when children start needing extra money in their pockets.
—Kikrus Reviews, April 1, 2012
Advertisement