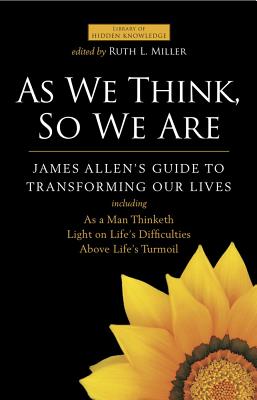 As We Think, So We Are
James Allen's Guide to Transforming Our Lives (Library of Hidden Knowledge)
Hardcover

* Individual store prices may vary.
Other Editions of This Title:
Paperback (3/29/2016)
Description
The fifth book in the Library of Hidden Knowledge series, As We Think, So We Are offers a contemporary interpretation of the century-old work of James Allen, one of the founders of the self-help movement.

DREAM LOFTY DREAMS, AND AS YOU DREAM, SO YOU SHALL BECOME.

As We Think, So We Are, the fifth book in the Library of Hidden Knowledge, invites readers to explore the pioneering teachings of James Allen, one of the first leaders of the self-help movement.

Dr. Ruth Miller offers modern translations of three of Allen's most insightful essays. Using clear, concise language paired with practical applications, Miller creates an accessible way to delve into and explore the fundamental processes that determine how we interact with—and understand—the world.

Allen's seminal theories in metaphysics introduced millions in the last century to the Law of Attraction, one of the most transformative paths to fulfillment in the modern age. In As We Think, So We Are, we find Allen's writing to be as important and life changing today as it was a hundred years ago. As Allen put it, "All that we are is the result of what we have thought. It is founded in our thoughts; it is made up of our thoughts."
Praise For As We Think, So We Are: James Allen's Guide to Transforming Our Lives (Library of Hidden Knowledge)…
"New times require new tellings of the timeless truths. Dr. Ruth Miller translates the ageless wisdom of James Allen's works for our age, losing nothing of the original while adding new insights."
—Pamela Jaye Smith, CEO of Mythworks and author of Beyond the Hero's Journey

"Dr. Miller has made James Allen's three works one complete, clear, and ever-applicable message, with a premise that remains an essential truth. This is a major contribution toward correcting humanity's ills."
—Andree Cuenod, author of Awakening, A Journey of Enlightenment

"Dr. Miller expertly injects fresh energy and renewed passion into James Allen's guide for transforming our lives, age-old writings that are more timely now than ever before. The works of twentieth-century authors, such as Wayne Dyer and Caroline Myss, are streaming references, confirming the eternal truthfulness of As We Think, So We Are."
—J C Pedigo, author of Views From the Pew

In As We Think, So We Are, Ruth Miller has brought James Allen's timeless wisdom for transforming our lives into easy to read prose that is both crystal clear and gently uplifting; with practical exercises for "walking the talk" in your own life, and Allen's original text for comparison by purists. Good stuff!

— Oliver Markley, PhD., Inward Bound Visioning
Atria Books/Beyond Words, 9781582703756, 288pp.
Publication Date: October 2, 2012
About the Author
Born in 1864 in England, James Allen took his first job at fifteen to support his family. Allen worked as a factory knitter and later a private secretary before writing his first book, From Poverty to Power, in 1901. In 1903 he completed his best-known work: As a Man Thinketh. Allen wrote nineteen books, including his spiritual journal, The Light of Reason, before he died at age forty-seven in 1912. While not widely known during his lifetime, Allen later came to be seen as a pioneer of contemporary inspirational literature.

Ruth L. Miller served as associate professor at San Jose State University and as Director of Curriculum and Evaluation for Rogue Community College. She was ordained in the New Thought tradition and became the pastor of the Lifeways Center in Portland, Oregon. She is currently a traveling preacher, serving New Thought and Unitarian-Universalist churches in Oregon, Washington, and California.
or
Not Currently Available for Direct Purchase