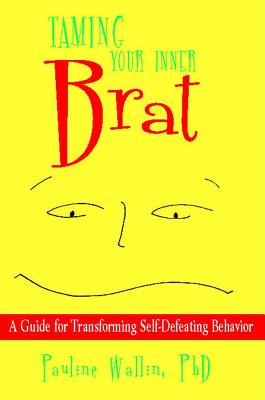 Taming Your Inner Brat
A Guide for Transforming Self-Defeating Behavior
Paperback

* Individual store prices may vary.
Description
I can`t believe I did that! What was I thinking?

We've all got one: an inner brat that compels us to grab one more cookie or throw a hissy fit over a minor irritation. This inner brat can wreak havoc at work, in relationships, and with our self-esteem. With humor and kindness, Taming Your Inner Brat gives you specific strategies to bring your attitudes and bratty behaviors under control. You can learn to deal with any situation in a productive, adult manner. By teaching you how to recognize your inner brat, psychologist Pauline Wallin, Ph.D. helps you bring problems into manageable perspective and make changes that last.

. . . Which leaves just one question, answered in this new edition: "Now that I've tamed my own inner brat, what do I do about people who haven't tamed theirs?"
Praise For Taming Your Inner Brat: A Guide for Transforming Self-Defeating Behavior…
"Pauline Wallin has written a wise and entertaining book that is a much-needed antidote to the prevailing tendency to indulge yourself...and blame your troubles on everyone else."
— — Roy F. Baumeister, PhD, coauthor of Your Own Worst Enemy

"Taming Your Inner Brat clearly shows its readers...how they can choose to curb their brattishness and self-defeating behavior."
— — Albert Ellis, PhD, Founder, Rational Emotive Behavior Therapy
Atria Books/Beyond Words, 9781582704104, 276pp.
Publication Date: June 12, 2012
About the Author
Pauline Wallin, PhD, is a clinical psychologist in private practice. For the past twenty-six years she has helped hundreds of people understand and productively deal with self-defeating behavior patterns. She has worked with individuals, couples, families, and businesses. She has also served on the adjunct faculty of the University of Minnesota and Penn State University. Taming Your Inner Brat is her first book. Over the years she has written numerous columns and commentaries for newspapers, magazines, and on mental health Web sites. She is also a frequent speaker for community and business groups, and has been featured by local and regional television and radio stations on stories of psychological interest. For several years, she was the editor of the Pennsylvania Psychologist, a monthly publication. Most recently, she served as communications board chair of the Pennsylvania Psychological Association, and currently is the press release editor.