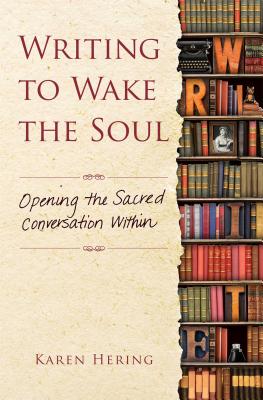 Writing to Wake the Soul
Opening the Sacred Conversation Within
Hardcover

* Individual store prices may vary.
Other Editions of This Title:
Paperback (12/22/2015)
Description
Through the power of everyday words, find and deepen your connection with faith and self in the spiritual practice of writing.

Whether you approach this book primarily as a reader or a writer, you can open a rich correspondence with yourself and learn what your own heart has to say. Karen Hering offers a path of self-exploration and a contemplative practice of writing that engages memory and imagination, story and poetry, images and the timeless wisdom of world religions and myth-ology. It will open your ear to your own truths while opening your heart to the world around you.

Blending writing prompts, meditations, and stories, this book invites you to begin wherever you are and discover your own unique relation­ship with language, spirituality, and the world around you. The next chapter is yours to write, and Writing to Wake the Soul offers all you need to write it.
Praise For Writing to Wake the Soul: Opening the Sacred Conversation Within…
"This is one of the best books ever written about the relationship between writing and spirituality. Karen Hering offers readers a wise and generous guide to mining essential material and transforming it into writing that is authentic and revelatory. Those who approach this book with open heart and mind will discover much about themselves."
— Bart Schneider

So many of us want to write! We sense that writing satisfies some profound longing—to become more fully ourselves, to connect more deeply to loved one, to help transform our hurting world...In Writing to Wake the Soul, Karen Hering gives us the tools to act."
— Elizabeth Jarrett Andrew

"In this powerful, lovely, practical, and provocative book, Karen Hering offers the world both a new form of ministry that transcends multiple traditional boundaries and profound evidence that the asking of unanswerable questions brings forth wide-open spiritual narratives of astonishing depth."
— Mary Farrell Bednarowski

"Karen Hering's invaluable guide brings alive the venerable art of writing as a spiritual practice for our time and place. Importantly, Hering's approach does not predetermine where you must begin your journey, nor does it lead you down a carefully prepared path to an authorized destination. If you follow Hering through the exercises of Writing to Wake the Soul it will do just that—awaken you to your own spiritual inclinations, as well as introduce you to a wealth of wisdom handed on by pilgrims who have preceded you on the way."
— Donald Ottenhoff, Executive Director

"Profound in its clarity and completeness, here is a contemplative guide to awaken the nurturing spirit in each of us. At the essence of every spiritual journey is the task of finding our own footing on the path. Like a good guide, this book will take you by the hand as you journey, but only long enough to help you discover the compass and spiritual grounding you already carry within."
— William C. Moyers
Atria Books/Beyond Words, 9781582704128, 304pp.
Publication Date: November 5, 2013
About the Author
Karen Hering is a writer and ordained Unitarian minister. Her emerging ministry of poetry and story, Faithful Words, offers programs that engage writing as a spiritual practice and a tool for social action. Her writing has been published in numerous periodicals and anthologies, including the Amoskeag literary journal, the Star Tribune (Minneapolis), and Creative Transformation. She serves as a consulting literary minister in St. Paul, Minnesota.
or
Not Currently Available for Direct Purchase