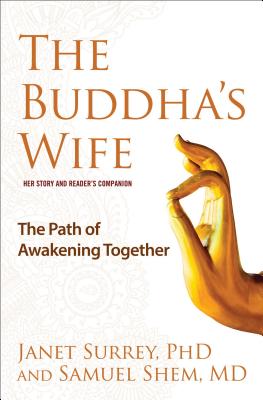 The Buddha's Wife
The Path of Awakening Together
Hardcover

* Individual store prices may vary.
Other Editions of This Title:
Paperback (11/20/2018)
Compact Disc (6/7/2016)
MP3 CD (6/7/2016)
Description
As the category of women's spirituality continues to grow, The Buddha's Wife offers to a broad audience for the first time the intimate and profound story of Princess Yasodhara, the wife Buddha left behind, and her alternative journey to spiritual enlightenment.

What do we know of the wife and child the Buddha abandoned when he went off to seek his enlightenment? The Buddha's Wife brings this rarely told story to the forefront, offering a nuanced portrait of this compelling and compassionate figure while also examining the practical applications her teachings have on our modern lives.

Princess Yasodhara's journey is one full of loss, grief, and suffering. But through it, she discovered her own enlightenment within the deep bonds of community and "ordinary" relationships. While traditional Buddhism emphasizes solitary meditation, Yasodhara's experience speaks of "The Path of Right Relation," of achieving awareness not alone but together with others.

The Buddha's Wife is comprised of two parts: the first part is a historical narrative of Yasodhara's fascinating story, and the second part is a "how-to" reader's companion filled with life lessons, practices, and reflections for the modern seeker. Her story provides a relational path, one which speaks directly to our everyday lives and offers a doorway to profound spiritual maturation, awakening, and wisdom beyond the solitary, heroic journey.
Praise For The Buddha's Wife: The Path of Awakening Together…
"Smoothly written and with compelling applications of social and psychological theories as well as Buddhist tradition, this can serve both spiritual practitioners and secular readers seeking insight on strengthening themselves and their relationships."

"After narrating the tale of Yasodhara's survival and spiritual growth in the company of others, Surrey and Shem draw on Jean Baker Miller's relational-cultural theory dealing with the importance of relationships, Zen peace activist Thich Nhat Hanh's concept of interbeing, and other sources to investigate the power of connection to heal individuals and, perhaps, a suffering world."

"In this creative, groundbreaking rendering, the relational 'Yin' of Buddhism, so often absent, is brought beautifully to life. The teachings are clear, vibrant, relevant. They guide us in loving more fully, and are the very grounds for healing our earth and bringing peace to our world."
— Tara Brach, Ph.D., author of Radical Acceptance and True Refuge

"A beautiful imagination of the feminine and relational side of the Buddha's tale."
— Jack Kornfield, author of The Wise Heart

This long-untold story, a truly provocative teaching tale—timeless and timely, perfect for our disenchanted era—will prove useful and enlightening to those who seek to find freedom within relationships. Here is a whole fresh take on the well-tilled field of the historical Buddha's life and teaching.
— Lama Surya Das, author of Awakening the Buddha Within

"The Buddha's Wife is a gripping telling of an amazing 2,500-year-old story, followed by a collection of contemporary inspirational stories, and specific reflections and practices collected from the lives and work of 'relational activists' all over the world. A great read and a practical guide for anyone who wants to 'wake up' and walk a path of healing with others."
— Martin Sheen

"Bless you Janet, Sam, and Yashodhara for pointing us in the feminist clarity that we serve best as an 'I' in the nest of the 'we', being communal at home and the world was the smartest decision of my life. Let's help midwife a loving world."
— Dr. Hunter "Patch" Adams, doctor, clown and activist for peace and justice

"An imaginative tour de force, this book lets the Buddha's central teaching shine through with stunning relevance for our lives today. Enlightenment or awakening has traditionally been viewed as a solitary achievement. The tale of Yasodhara offers a welcome and engaging counter-balance, where relationships are recognized as central to the Buddhist view of reality as well as to our personal lives. ALong with the engrossing story, the authors offer reflections and guidance on mindful practices that help us wake up to and through our relationships. Buddhists and non-Buddhists alike will want to train in the fullness of presence."
— Joanna Macy, author of Coming Back to Life

"Though I'm not a Buddhist, I sense that this account deepens and adds beautiful shadings to the story of the Buddha's life. I know that in its focus on relationship, it's a powerful antidote to the hyperindividualism that marks our world."
— Bill McKibben, author of The Comforting Whirlwind

"A brave and life-changing book, The Buddha's Wife speaks to perhaps the greatest challenge of our time, our false sense of separateness. For all people of all faiths, The Buddha's Wife shifts perception and thus opens us to possibility. It touched me deeply."
— Frances Moore Lappe, author of Diet for a Small Planet

"Janet Surrey and Samuel Shem have written a remarkable book, both as a work of literature and a work of spiritual teaching. Through their moving personal story and their beautiful imagining of the life of Yasodhara, the Buddha's wife, they describe a 'relational path' to awakening, one that contrasts with that of the heroic solitary seeker we see so often in religious texts and myths. The Buddha's Wife comes at a time of distress and conflict in our culture and offers hope that we might learn to live together in a new way, founded in an understanding of our shared struggle for happiness and freedom."
— Kevin Griffin, author of One Breath at a Time and Recovering Joy

"The Buddha's Wife carries us beyond any one religious tradition to launch us gently into streams of a universal wisdom. Therein is its spiritual power. This is a beautifully written book for all who know, at least intuitively, that our liberation—as people and as a planet—is rooted in our shared commitments to more radically relational and mutual ways of being than any of the major world religions (including Buddhism) either teach or practice."
— (The Rev) Carter Heyward, PhD, professor emerita of Theology, Episcopal Divinity School, Cambridge MA

"What must it have been like for the Buddha's wife to be abandoned the night after her first child was born? Surrey and Shem have a brilliant story to tell, one of a heart shattered by loss, a community that doesn't shy away from suffering, and a path to freedom that is radical yet ordinary, humble yet profound. The authors offer a healing vision, nurtured throughout their life together, that is just what our world."
— Christopher Germer, PhD, author of The Mindful Path to Self-Compassion, co-editor of Mindfulness and Psychotherapy, clinical instructor at Harvard Medical School

"The Buddha's Wife is a riveting tale that will move your heart and shift your focus to the precious beings around you. In our world, where the social fabric is torn by violence, greed, and neglect, this visionary story offers us an alternative path beyond individualism and self-preoccupation. Drawing on the deep wisdom of relational and spiritual practices that Surrey and Shem have studied, created, and engaged in over decades, this timeless and beautiful narrative shows us what deep attunement to ourselves and to one another looks like, as well as the means by which we can work to manifest it."
— Mary Watkins, author of Toward Psychologies of Liberation

"The Buddha's Wife is a visionary work of profound insight, imagination, compassion, and scholarship. In telling the lost story of Yasodhara, Surrey and Shem give us a lamp for our troubled times, illuminating new paths and practices for all relationships."
— Susan M. Pollak, coauthor of Sitting Together
Atria Books/Beyond Words, 9781582704180, 320pp.
Publication Date: June 30, 2015
About the Author
Janet Surrey, PhD, is a Buddhist dharma leader and clinical psychologist internationally known for her work on relational theories of women's psychological development, diversity, mothering, adoption, and substance abuse. Among other venues, Surrey has taught at Harvard Medical School and the Barre Center for Buddhist Studies. She is the author of several books. She currently divides her time between Boston and Tierra Tranquila, Costa Rica.

Samuel Shem (a.k.a. Stephen Bergman), MD, is the author of several books of fiction including the bestseller The House of God. Heis a doctor, novelist, playwright, and activist. A Rhodes Scholar, he was on the faculty of Harvard Medical School for three decades and founded the Bill W. and Dr. Bob Project in the Division on Addictions at Harvard Medical School. He divides his time between Boston and Tierra Tranquila, Costa Rica.
or
Not Currently Available for Direct Purchase