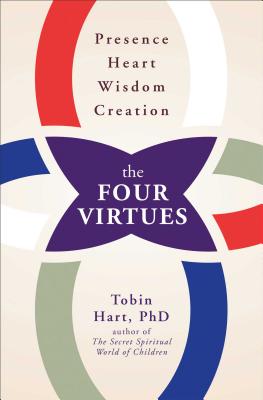 The Four Virtues
Presence, Heart, Wisdom, Creation
Paperback

* Individual store prices may vary.
Description
Find meaning, wholeness, and spiritual depth with this field guide to the inner life that explores and integrates four essential virtues: Presence, Heart, Wisdom, and Creation.

In a world with greater knowledge, more advanced technology, and more groundbreaking innovation than ever at our fingertips, we are still looking to find our way. We are still searching for that essential insight on how to lead a really good life.

By drawing from across tradition and time, from neuroscience to ancient wisdom, Tobin Hart reveals that we all possess four essential virtues—Presence, Heart, Wisdom, Creation—that help us to build, balance, and integrate our psychological and spiritual life on earth. While these virtues may be universal, the way they live in each of us is unique. With the Spiritual Assessment Matrix (SAM) and expert practices and tools, this highly accessible, thought-provoking guide shows us how to grow and activate these powers from the inside out. When in balance, these four virtues serve as a field guide to the inner life, bringing you heart and wisdom as well as helping you recognize beauty, rekindle awe, and find your own voice.
Praise For The Four Virtues: Presence, Heart, Wisdom, Creation…
"Rarely has there been a book of such exquisite wisdom, such potent truth about the nature and practice of virtue."
— Jean Houston

"Through personal insights, storytelling, and an inspiring presentation of wisdom and knowledge attained by respected thinkers, spiritual leaders, and scientists, Tobin Hart provides guidance for living life from a deeply integrated and authentic place within."
— Michael A. Singer

"This remarkable book is a treasured gift for teachers, therapists, counselors and all those who wish to grow the soul."
— Carolyn Toben

"This is a gem of a book. Drawing on his own rich life experiences, neuroscience, and ancient wisdom traditions, Tobin Hart explores how we can cultivate capacities that allow us to be deeply connected to ourselves, to each other, and to the world."
— Pamela Seigle, PhD, executive director of Courage & Renewal Northeast

"There is a new awakening to the potential of spiritual growth and the flowering of human society that it can bring. In this beautifully written book, Tobin Hart illuminates that path, skillfully applying his scholarship, experience, and insights to provide a vivid roadmap for the spiritual seeker."
— Peter Laurence, EdD, director of Education as Transformation Project at Wellesley College

"A work of wide learning and deep reflection, The Four Virtues eloquently teaches what is most important to learn: the art of living a meaningful life."
— Pir Zia Inayat-Khan, PhD, spiritual leader of Sufi Order International and author of Aracen Chivalry

"In this remarkable book, Tobin Hart applies ancient wisdom to the information age. Not only has he given his readers a psycho-spiritual matrix for internal growth but has also provided a road-map for finding their way through an external world of increasing complexity. At the very least, The Four Virtues is a fascinating document; at the very most it will change the lives of many those who read it and practice its exercises."
— Stanley Krippner, PhD, coauthor of Personal Mythology

"With this book, Tobin Hart is doing something audacious: offering us a guide to our deepest, most meaningful life while, in his writing, embodying the virtues he identifies as key....This is a book to be savored. I'll be reading sections of it over and over."
— Richard Schwartz, PhD, president of the Center for Self Leadership and developer of the Internal Family Systems model of psychotherapy

"This is a very creative, helpful, and joyful book whose warmth and presence reflects unique and valuable insights into the human condition. Highly recommended!"
— Lee Irwin, PhD, professor of religious studies, College of Charleston

"This miraculous book by Tobin Hart is a doorway into exploring one's inner life. This book provides the reader with a welcome roadmap for discovering what may be just below the surface but is often obscured by the busyness of our everyday existence. By traveling the path of The Four Virtues and using the practical strategies provided, Dr. Hart opens up a world for the reader to explore avenues for personal growth and transformation."
— Mark T. Greenberg, PhD, Bennett Chair of Prevention Research, Pennsylvania State University

"If you want to get rich, here's the one book to buy. Not the richness that comes from making a lot of money, but the richness of spirit that comes from living a full life. Hart exquisitely and movingly details what living well really means, the virtues involved, and the path to get there. It is a far-sighted book for our near-sighted times."
— Jerome T. Murphy, EdD, Harold How II Howe Research Professor of Education, dean emeritus of the Harvard Graduate School of Education

"Tobin Hart thoughtfully and accessibly engages the psychological and spiritual nuances of world wisdom to discern the essential elements and practices for a meaningful life well lived. What makes this book even more important is the author, a man of true gentleness and deep insight."
— Richard C. Brown, PhD, founder of Naropa University's Contemplative Education Department

"Tobin Hart's book is a gentle and inclusive field guide to inner life that draws on a range of traditions to provide us with a thoughtful engagement of practices and personal disciplines for nurturing the spirit. It is a guide to ways to live more fully."
— Daniel Scott, PhD, director of the School of Child & Youth Care, University of Victoria

"The Four Virtues is a beautiful meditation on life's inner journey. Weaving around the themes of presence, heart, wisdom, and creation, the book helps us explore our deeper human potential and appreciate what it means to be truly human. The gentleness of the tone, the appreciation of life's beauty, and the clarity of self-awareness that permeate the entire book make the reading a truly inspiring experience."
— Thupten Jinpa, PhD, principal translator to the Dalai Lama and author of Essential Mind Training

"With his contemporary culture references and conversational tone, Tobin Hart provides an accessible, secular roadmap that synthesizes age old wisdom traditions. Like Tobin himself, this book is destined to help many people better understand the world from the inside out."
— Susan Kaiser Greenland, author of The Mindful Child
Atria Books/Beyond Words, 9781582704470, 384pp.
Publication Date: February 4, 2014
About the Author
Tobin Hart, PhD, is a professor, psychologist, speaker, and the author of The Secret Spiritual World of Children. He has spent more than thirty years as a researcher and ally helping students, clients, and patients integrate their psychological and spiritual lives. He serves as a professor of psychology at the University of West Georgia, as well as the president and cofounder of the ChildSpirit Institute.