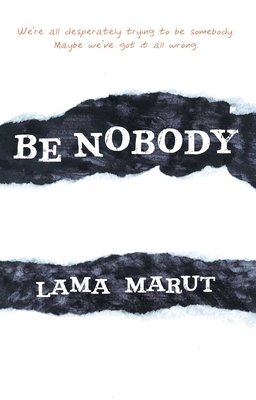 Be Nobody
Paperback

* Individual store prices may vary.
Description
This follow-up to A Spiritual Renegade's Guide to the Good Life calls for the biggest revolution of all: the overthrow of our obsessive quest to be somebody.

Like boardwalk tourists poking their faces through two-dimensional cutouts of the muscle man and bathing beauty, we are all desperately trying to be somebody, to be "special." No one wants to be a loser, a small fry, a big zero.

But maybe we've got it all wrong.

With an edgy tone and radical perspective, Lama Marut shows that the quest to distinguish ourselves is the true cause of our dissatisfaction, and it continually leaves us feeling isolated and alone. Drawing from the spiritual truism that only by losing the self can we discover our real potential, Be Nobody provides guidance, actions, and simple meditations to help you lay down the heavy burden of trying to be somebody—without requiring you to live in a monastery or retire to a cave in the Himalayas. When we vacate ourselves, we will finally have the freedom to find true fulfillment.

So stop narrating your life and start living it. Be nobody.
Praise For Be Nobody…
"In his trademark emphatic and no-nonsense style, Lama Marut provides a much needed critique of modernity that cuts to the root of every problem we currently face on the planet."
— Dr. Miles Neale, Buddhist Psychotherapist and Assistant Director of the Nalanda Institute for Contemplative Science

"Here's some help in kicking your ego's butt, so that you can create a genuine spiritual life. Instead of endless self-improvement, you're invited to let go of your self. This really is the only way to be happy. Akin to Woodie Guthrie's acoustic folk guitar, Be Nobody should be inscribed, 'This book destroys egos.' Lama Marut is brilliant, a Chogyam Trungpa for new generations, mixed with a little Louis C.K. style humor."
— Lisa Selow, life coach and author of A Rebel Chick Mystic's Guide

"In a conversational tone, Marut offers a nondenominational, effective, and accessible challenge to "being somebody" and a method for engaging with the "nobody" found in the everyday and every one."
— Publishers Weekly

"Lama Marut's Be Nobody fiercely examines our preoccupation with the 'I', revealing how living on the 'Me Plan' can never satisfy the hungry ego. The antidote he offers is truly liberating, not only for oneself but for all sentient beings."
— Michael Bernard Beckwith, author of Life Visioning

"Writing with great sensitivity to stress we all feel, Lama Marut helps us see that we strive to be valued by trying endlessly to be more and more special...Laying out a clear spiritual alternative, he dares us to become Nobody: a state of complete authenticity, where we are present to our lives and joyfully connected to all."
— Lindsay Crouse, Academy Award Nominated Actress

"This book, sincerely used, can become a catalyst to move the reader toward a happier, more open, and selfless life, toward loving and serving others with sturdy, reality-based compassion."
— Rev. Anne Deneen

"Reading this book is easy, and understanding is liberating. I invite you to do both."
— Rabbi Rami Shapiro, author of Perennial Wisdom for the Spiritually Independent

"This is an amazingly powerful piece of work from a truly unique and dynamic nobody."
— Mary McDonnell, Actress
Atria Books/Beyond Words, 9781582704548, 288pp.
Publication Date: June 3, 2014
About the Author
Lama Marut (a.k.a. Brian K. Smith) is extensively trained in the spiritual traditions of India and Tibetan Buddhism. He holds a PhD in comparative religion and taught for over two decades in the academic world, first at Columbia University and later at the University of California, where he retired as professor emeritus in 2004. He has served for the past fifteen years as a spiritual teacher to students around the world, and is currently the spiritual director for eight "Middle Way Centers" located in North America, Australia, and Singapore.

In addition to several scholarly studies and translations based on Sanskrit materials, he is the author of the popular and award-winning book A Spiritual Renegade's Guide to the Good Life. With his unique mixture of erudition and earthiness, intensity and humor, conviction and openness, Lama Marut's message is easily accessible and life-changing.