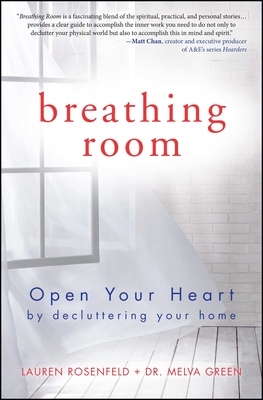 Breathing Room
Open Your Heart by Decluttering Your Home
Paperback

* Individual store prices may vary.
Description
Cleaning out your cupboards isn't just about a tidier kitchen. Find peace, repair your past, and live a more fulfilled life with this uplifting guide to the spiritual practice of decluttering.

Bless your clutter. Yes, you heard right: Bless it. Bless everything in your life that is superfluous, broken, burdensome, and overwhelming—because it is all here to teach you an important lesson, perhaps the most important lesson there is: what really matters.

Everyone's lives could use some serious decluttering. But decluttering isn't just about sorting junk into piles and tossing things in the trash. Decluttering can inform us of our burdens, help us to understand our attachments, and aid us in identifying what is truly valuable in our lives.

Written by a medical doctor and a spiritual intuitive, with case studies of people just like you, Breathing Room takes you on an enlightening room-by-room tour where each room in your home corresponds to a "room" in your heart, and where declutter­ing will not just make space but improve the spirit.

So, if it's weighing you down, if it's become an obstacle, if it's making it near impossible for you to find the things you really love—it's time for you to let it go and find a little breathing room.
Praise For Breathing Room: Open Your Heart by Decluttering Your Home…
"Breathing Room is a fascinating blend of the spiritual, practical and personal stories about how we can all declutter our lives. The book provides a clear guide to accomplish the inner work you need to do not only to declutter your physical world, but also to accomplish this in mind and spirit."
— Matt Chan

"With clarity, compassion, and humor, Lauren Rosenfeld and Dr. Melva Green help us see the deep connection between living space and heart space—guiding us toward freedom and ease within both. With both spiritual lessons and easy to do exercises, this book is a perfect blend of theory and practice. Readers of Breathing Room will soon find themselves rejoicing in the wide open spaces of both home and heart."
— Joan Borysenko, PhD

"[Breathing Room] has helped me deeply understand that clearing space is not just about the 'stuff' in my house, but, more importantly, the 'stuff' in my heart."
— Patti Digh

"This book is genius. If you shut down when faced with your clutter, if clutter is stopping you from living the beautiful life that is your birthright, read this book! It has what you need to change your relationship to clutter forever!
— Jennifer Louden

"Breathing Room puts the Om into your home and the grease into your elbows! This is where the spirituality of clutter meets practicality with a big dose of compassion. Well done!"
— Tisha Morris

"Who knew that clearing your physical space of unnecessary clutter could be a path of self-reflection and deep learning? Well Lauren Rosenfeld & Dr. Melva Green—that's who! In Breathing Room these two wise women guide us in how to learn from the spaces where we live and create rooms that reflect a nourished and nourishing heart. With compassion and humor they help us find a way to let the beauty we are shine through the inevitable messiness of being human."
— Oriah Mountain Dreamer

"A compassionate guide to clearing out your clutter, and inviting space, light, and peace into your home and heart."
— Francine Jay

"Melva Green in soft, super creative and direct. If anyone can provide the necessary 'breathing room' in our space or in our life it's her! This book is just fantastic!"
— Dorothy The Organizer, creator of Curb the Chaos System and expert on Hoarders
Atria Books/Beyond Words, 9781582704579, 288pp.
Publication Date: April 1, 2014
About the Author
Dr. Melva Green is a board-certified psychiatrist, TV personality, and spiritual healer. She is an expert doctor on the popular and critically acclaimed A&E show Hoarders. Dr. Green travels nationally and internationally assisting spiritually awakening souls who have committed to detoxing and decluttering—mentally, emotionally, and spiritually—so that they might live their best lives and awaken into their full potential. She lives in northern California with her son.

Lauren Rosenfeld, M.A., M.Ed., believes that the mundane details of our life are the stepping stones on our intimate path of the spirit. She is a professional Soul Declutterer who helps her clients let go of physical and emotional clutter that are preventing them their Breathing Room. She coauthored Your To Be List and blogs at LGRosenfeld.com, where she shares lessons on how our daily lives shine with spiritual lessons. She is an unapologetic hippie-peacenick-pluralist-dreamer who resides in Asheville, North Carolina, with her husband and four children.
or
Not Currently Available for Direct Purchase