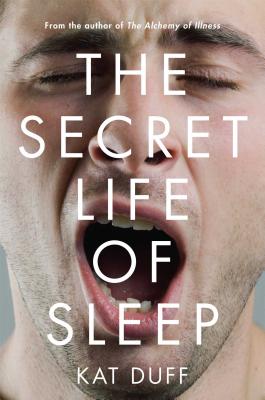 The Secret Life of Sleep
Hardcover

* Individual store prices may vary.
Other Editions of This Title:
Paperback (8/10/2019)
Description
Unlock the astonishing facts, myths, and benefits of one of the most endangered human resources—sleep.

It has become increasingly clear that our sleep shapes who we are as much as, if not more than, we shape it.

While most sleep research hasn't ven­tured far beyond research labs and treatment clinics, The Secret Life of Sleep taps into the enormous reservoir of human experiences to illuminate the complexities of a world where sleep has become a dwindling resource.

With a sense of infectious curiosity, award winning author Kat Duff mixes cutting-edge research with insightful narratives, surpris­ing insights, and timely questions to help us better understand what we're losing before it's too late.

The Secret Life of Sleep tackles the full breadth of what sleep means to people the world over. Embark on an exploration of what lies behind and beyond our eyelids when we surrender to the secret life of sleep.
Praise For The Secret Life of Sleep…
"Duff leads an absorbing foray into the vibrant activity that we otherwise sleep right through."
— Publishers Weekly

"The author's multidisciplinary approach and relatable writing is a breath of fresh air, and her enthusiasm for her subject echoes how many of us feel—we love to sleep....Full of unique insights and surprising facts, this book brings to the fore an entire world that exists behind closed eyes."
— Kirkus Reviews

"What distinguishes Duff's work from the average popular science title is her beautifully nuanced, lyrical prose and astute recognition that sleeping and dreaming have a much deeper meaning in our lives beyond the research laboratory."
— Booklist

"Kat Duff shines the light of her open-minded curiosity into a darkened and mysterious world with wit, charm, perspicuity, humor and wisdom. After reading The Secret Life of Sleep, you may find yourself inhabiting a new, enhanced view of the world and of yourself."
— Arifa Goodman

"In this book, Kat has done an incredibly skillful job pulling together the most recent scientific research on sleep studies and intermixes it with what artists and poets and sages for centuries have to offer on the subject."
— Loretta Oriz y Pino, MD
Atria Books/Beyond Words, 9781582704685, 256pp.
Publication Date: March 18, 2014
About the Author
Kat Duff is the award-winning author of The Alchemy of Illness and has written for Parabola Magazine and Ink and Ashes. Duff lives in northern New Mexico, where she works as a licensed counselor in private practice.
or
Not Currently Available for Direct Purchase