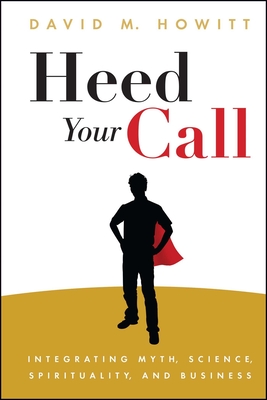 Heed Your Call
Integrating Myth, Science, Spirituality, and Business
Paperback

* Individual store prices may vary.
Other Editions of This Title:
Hardcover (2/25/2014)
Praise For Heed Your Call: Integrating Myth, Science, Spirituality, and Business…
"In the spirit of Joseph Campbell, David Howitt takes his readers on a Hero's Journey for the twenty-first century. This book is for anyone looking for reassurance and guidance as they seek to carve a unique, examined life out of this modern wilderness."
— Daniel H. Pink, author of To Sell Is Human and Drive

"David has unlocked the tools to truly 'heed my call.' As a career woman trying to balance a high pressure job with parenting two children, his constructs are invaluable and if followed, can dramatically support us in living our best lives—filled with love, material wealth, peace, and most importantly, fun. David's voice in Heed Your Call resonates deeply with me and will for all who are ready to take the journey."
— Lara Spencer, co-anchor of Good Morning America, NY Times bestselling author of I Brake for Yard Sales, and creator, executive producer, and host of HGTV's Flea<

"Heed Your Call speaks to all of us. It challenges us to be authentic and complete. Written from the point of view of one modern-day hero and entrepreneur, this thoughtful book is a must read for all who are seeking a way to integrate happiness, purpose, and business."
— Clare Hamill, vice president, Nike Growth Initiatives and founding board chair for Children's Cancer Association

"The message David delivers in his new book is what I believe to be an example of the journey we are all toward creating a more soulful economy. His ability to infuse wisdom and wonder into the realm of business is exactly what is required to create a union between business, spirit, and philanthropy."
— Donna Karan, fashion designer

"Using examples from his journey and those of others, David demonstrates the virtues of embracing and—analytics and intuition, empathy and facts, logic and story, art and science—in both your business and personal pursuits...The lessons, stories, and ideas that he shares in Heed Your Call to be meaningful and transcendent...something important is happening in this book that will ultimately empower us, individually and collectively, to meet the great challenges that lie ahead."
— Steve Wynee, former CEO of Adidas America and Sports Brands International (Fila)

"Heed Your Call is a manifesto for all of us who seek to be awake, live a life of purpose, and create abundance. I have used much of what David takes us through in my business, and the results have been staggering. The information and stories in this book empower us to take control of our lives, to create success, and to heal the world along the way. Big and powerful stuff."
— Zach Smith, executive director Global Leadership

"It is not often that someone introduces such a new and fresh currency of inspiration and motivation that creates a road map for anyone to pursue significant change in their personal or business journey. Howitt's book is truly a mashup of today's most contemporary concepts packaged in a unique voice that provokes the idea that expanded consciousness will be the next most important meme."
— Piper Carr, co-founder and chief strategy officer, Citizen, Inc.

"Heed Your Call helps us to understand that life is yoga and shows us the yoga of business. In this book, David so eloquently reminds us that we can and must combine love, art, science, and commerce, and that when we do, amazing and meaningful things can and will happen."
— Tiffany Cruikshank, international yoga teacher and health & wellness author

"David Howitt believes your life and career should be a spiritual journey, not just a job. His remarkable new book weaves together myth, science, spirit and business as never before. Heed Your Call is gripping, irreverent, and relevant. Read this book. It will change your life.
— John Kroger, President, Reed College

"Reading Heed Your Call, I realize many of us have been too heedless in our pursuit of the American Dream. We need to pause and listen, and the first person we should listen to is David Howitt. As we tune in to others like him, we tune in to ourselves and can pursue our dreams more wisely. This is critical reading for entrepreneurs who want to integrate business, purpose, and authenticity for success."
— John Howard, founder and CEO, Irving Place Capital

"David Howitt crystallizes the intuitive, demonstrating how tapping into the power within plugs us into the frequency of pure potential and guides us home to ourselves. Heed Your Call is an essential toolbox filled with insight, authenticity, truth, and wisdom—a gift toward your personal and professional transformation and to manifesting your true purpose."
— Paulette Mae Cole, CEO, ABC Carpet and Home

"A truly rare and extraordinary book, filled with inspiration and practical wisdom. David Howitt is a gifted business adviser and entrepreneur who fully understands the importance of bringing deep empathy and intuition into our personal and professional lives."
— Mark Robert Waldman, faculty, College of Business, Loyola Marymount University, and author of Words Can Change Your Brain
Atria Books/Beyond Words, 9781582704852, 224pp.
Publication Date: November 26, 2016
About the Author
David Howitt is the founder and CEO of Meriwether Group. He is an inspiring thought leader and accomplished entrepreneur with over twenty years of experience providing financial, strategic, and brand counsel to early stage, and Fortune 100 companies. He has the unique ability to integrate vision and growth strategies with mission and purpose, and has provided guidance to Oregon Chai, Stumptown Coffee, Pendleton, adidas, Voodoo Doughnut, Salomon, yogitoes, Klim, Bloch, Dave's Killer Bread, ABC Carpet & Home, Living Harvest, and many others.
or
Not Currently Available for Direct Purchase