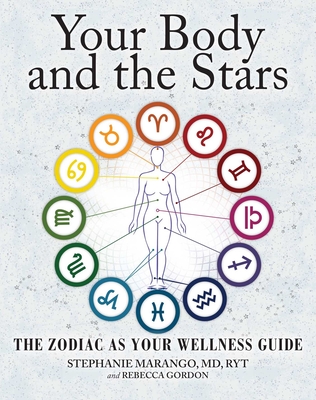 Your Body and the Stars
The Zodiac As Your Wellness Guide
Paperback

* Individual store prices may vary.
Description
The first book of its kind, Your Body and the Stars is a fun, practical, and insightful handbook that takes a revolutionary approach to holistic wellness by unlocking the powers of the stars.

Do you suffer from neck pains? Go to the chapter on Taurus and the neck. How about sore knees? Learn preventive tips and exercises in the Capricorn chapter. Your Body and the Stars is the first comprehensive reference guide to go deep into the twelve zodiac signs and the specific body region each sign represents—from your head down to your toes. You can utilize this book by identifying your birth or sun sign and by the body region that needs healing attention. Each chapter integrates a self-directed program and holistic approach to health—both your emotional or mental well-being as well as the physical health of your body. Practical end-of-chapter tips, questions, and illustrated step-by-step exercises based on a mix of yoga, stretch and strengthening movements, and Pilates are provided for all levels.

Your Body and the Stars brings together a medically trained, holistic physician, Dr. Stephanie Marango, and a talented astrologist, Rebecca Gordon, whose horoscopes have appeared in Elle and on Epicurious.com. They combine their individual expertise to bring the twelve zodiac signs to physical life, providing a lifelong guide that can both prevent and self-heal, illuminating your head-to-toe healing connection to the cosmos.
Praise For Your Body and the Stars: The Zodiac As Your Wellness Guide…
"Rebecca Gordon is one of the best astrologers I've ever met. She's authentic, funny, and extremely talented! I recommend her work and Your Body and the Stars to everyone!"
— Gabby Bernstein,

"I love how Dr. Stephanie and Rebecca take your body and soul to another dimension with merging the physical, metaphysical, and mind within-depth exploration of relating ourselves to every zodiac sign. Your Body and the Stars deeply educated me on opening my eyes on how much I needed to use elements of the other signs to make me whole. Brilliant!"
— Elisabeth Halfpapp, executive vice president of Mind-body Programming,

"This is a beautiful book by Dr. Stephanie and Rebecca Gordon. I have been fascinated with astrology and health for nearly fifty years and what these women have put together is informative and helpful for anyone interested in astrology and body relationships, and how you can use them for greater wellbeing. I highly recommend Your Body and the Stars."
— Elson M. Haas, MD, integrative family physician (elsonhaasmd.com)

"Carl Sagan said, 'We are made of star-stuff,' and in their groundbreaking new book, Your Body and the Stars, astrologerRebecca Gordon and holistic physician Dr. Stephanie back up this powerful cosmic concept with an integrative wellness guide that shows you, through practical tools and a cosmically artful health program, how to maximize your overall well-being. Through understanding the relationship between the signs and your physical body, Rebecca and Dr. Stephanie take you on a journey of self-discovery that will bring you into harmony with the stars and the physical world and show you how to live in optimal wellness."
— Ronnie Grishman,

"Bravo, Dr. Stephanie and Rebecca! I am now fascinated to know that my physical body, and all that I ask it to do, is so profoundly influenced by my metaphysical connection to the universe. The wisdom that I have taken from these pages has deepened my appreciation of my body and my understanding of the Mind-Body concept, which is so prevalent in our fitness programs at exhale. Thanks for such a great read. This will now be one of my reference books!"
— Fred DeVito, executive vice president and cofounder of exhale
Atria Books/Beyond Words, 9781582704906, 240pp.
Publication Date: May 10, 2016
About the Author
Stephanie Marango, MD, RYT is a holistic physician and educator trained at Stanford University and the Mount Sinai School of Medicine. In addition to her private practice, she regularly lectures and contributes on topics including functional anatomy, physician wellness, and body-mind-spirit health at major medical centers, healthcare websites, popular magazines, and national fitness organizations. Learn more about Dr. Stephanie and her work at Imbodyment.com.

Rebecca Gordon is a full-time astrologer, presenter, and columnist of the stars. Founder and creator of the nine-year-running My Path Astrology school, she teaches live and online courses year-round in New York City. Her astrological columns have been featured in Prevention Magazine, Condé Nast's Epicurious, and currently she contributes monthly astrology articles to HarpersBazaar.com. Rebecca is passionate about teaching, sharing the language of the planets, and helping others to navigate their path in life.